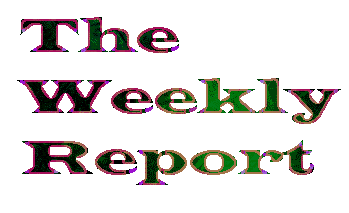 - Archive
- Week 1 to 26 1999
-
---

&nbsp "I've hated this life and this system of things".

&nbsp &nbsp &nbsp &nbsp Mark Barton

---

&nbsp WEEK 1

&nbsp TWO SECONDS PAST TWELVE

&nbsp 1998 is the warmest year ever recorded on Earth. The average temperature of measuring points all over the world, rose 0.6 degree centigrade above the former record breaking year of 1996. The temperature rise have been the highest in the polar regions, where there have been a notable melting of both ice sheet and ice shelves.
&nbsp This is consistent with the theory of human created Global Warming. The temperature increase is already more pronounced than the IPCC, in 1995, predicted for the first 50 years of the 21st century.
&nbsp WEEK 2
&nbsp 40000 BRITISH HOMES WITHOUT ELECTRICITY
&nbsp About 40000 British homes are without electricity the third day in a row, following several days of storm. Northern Ireland and Scotland are hit the worst and repair men have encountered considerable difficulties even in the task of reaching the problem areas and the damaged equipment, because of knocked down trees and posts. Water and sewage pipes and plants are also substantially damaged by rain and flood. The power plant owners are severely criticized. Even more so, since the same problems did occur during virtual identical circumstances, last year.
&nbsp WEEK 3
&nbsp HOLE IN OZONE LAYER BIGGER THAN EVER
&nbsp The hole in the ozone layer over Antarctica was in December bigger than ever before recorded. It also lasted a month longer than last year, Argentinean meteorologists states. The area where there were recorded low values of Ozone, the so called hole, covered in over 100 days at the end of 1998 an area more than 10 million square miles (European continental unit), the Argentinean national weather service reports.
&nbsp WEEK 4
&nbsp AND THE MEEK...
&nbsp Creative students expressing their own, independent opinions, are often classified as troublemakers by teachers, a new European study shows.
&nbsp Students faithful to authority and authority representatives, are in contrast rewarded. The figures from the report show that merely a few of what teachers call troublemakers have severe attitude problems.
&nbsp A spokesman for the team doing the investigation, states that this is a self enforcing «tendency» enforcing itself through the generations. The teachers have themselves, in their youth, successfully practiced the meek student tactic, and will in turn continue the same system when they inherit the mantle. Many successful students leave school to become society leaders, and thus we have a society, not just a school, of followers. Followers eager to obey.
&nbsp There have yet to be a public or official reaction to the report.
&nbsp WEEK 5
&nbsp RADIOACTIVE EARTH
&nbsp Many Moscow buildings are radioactive, and so is food on the markets, Russian newspapers report. Several of the radioactive sources are found in scientific and industrial equipment stowed away in cellars and attics and also in schools. Last year 5 tons of radioactive mushroom, berries and fruit was ceased by the authorities from Moscow markets. A major part of the radioactive food originates from areas contaminated after the Chernobyl accident in 1986.
&nbsp WEEK 6
&nbsp PROBLEM CHILDREN CAN BE FOUND IN AN EARLY STAGE
&nbsp Problem children is exposed already in kindergarten, when they're 2 to 3 years old. Then the supervisors may start with preventive measures, to keep the children from develop aggressive tendencies later in life, and contributing to the children's development of better social behavior.
&nbsp These are thoughts ever more prevalent and supported, in the scientific community. In the future children will be singled out early in life, to prevent them becoming socially unstable as they grow older.
&nbsp If this do not deserves a COMMENT, nothing do: Can ya cry «1984», boys and girls?
&nbsp WEEK 7
&nbsp SWEDEN: A GARBAGE HEAP DAMAGES FISH
&nbsp 80 percent of the fish population in the lake of Molnbyggen outside Leksand in the central parts of Sweden is damaged after releases from the public garbage heap. It's feared that this is not unique to this particular lake and that other garbage disposals both in Sweden and other countries, do have a similar effect on its surroundings.
&nbsp Fish and other forms of life living in the vicinity of such disposals, tend to be sterilized after extended exposure.
&nbsp WEEK 8
&nbsp POLICE FIRED WILDLY AT INNOCENT MAN
&nbsp The United States government has instigated an investigation after an incident in New York, where the city police raided an apartment and fired a total of 41 shots against an innocent immigrant. The man, 22 year old Amadou Diallo, was hit by a minimum of 19 bullets, and he died instantly. A police official explains the accident by alleged panic among the officers when the victim moved his arm.
&nbsp INCREASED RATE OF BIRTH DEFECTS
&nbsp A disturbing high number of newborn in the area of Rana in the northern parts of Norway have missing fingers and toes or other birth deformities. The area have a factory producing iron alloy for export and is 3 times above the national average, concerning these kind of birth anomalies.
&nbsp This is a tendency evident in all areas with heavy industry, all over the world.
&nbsp EXTENSIVE SURVEILLANCE AROUND CENTRAL RAILWAY STATION
&nbsp Oslo Central Station has the highest number of surveillance cameras in Norway. At least 420 video cameras are placed inside and outside the station.
&nbsp - More is on the way, security chief Jerker Eid tells matter of factly, claiming the surveillance is an important aspect of the job to make commuters feel safe.
&nbsp Newcastle was the first city in Europe introducing video surveillance throughout the inner city streets. Since then several other cities in Britain and Europe have done the same.
&nbsp There are existing plans for placing cameras for public surveillance, and linking existing private cameras, all over Oslo.
&nbsp WEEK 9
&nbsp ISSUED WARNING AGAINST GENE MODIFIED FOOD
&nbsp Scientists are warning people about gene modified food because of results shown in a British research project, showing the food to be damaging to the immune defense system and also shrinking the brain of lab rats. The man in charge of the project was fired when he went public with the results, and since then the reports have disappeared.
&nbsp DEMANDING BAN
&nbsp The newspaper Mail on Sunday reports that the major American biotechnology corporation Monsanto, are supporting the Scottish institute that recently fired a head researcher disobedient to institute policy.
&nbsp According to the British newspaper Monsanto has given approximately 200 000 USD to the Bowan institute in Aberdeen. Professor Arpad Pusztai was fired from the institute after his revelation of what happened to lab rats eating gene modified potatoes. 23 researchers from 12 nations support Pusztai. They're demanding an immediate ban on gene modified food in Great Britain.
&nbsp WEEK 10
&nbsp AFFECTING THE BODY
&nbsp Electromagnetic radiation from power lines, computers, heat cables and television sets, does affect our bodies, a report from Odda shows. Physician Finn Schmidt is confirming this. He says that the results are clearly measurable. The report indicates that this radiation may affect muscles and bone structure in negative ways. This is quite contrary to what is currently claimed by Norwegian health authorities, that this kind of radiation are not affecting the body.
&nbsp DIESEL KILLS 300 NORWEGIANS ANNUALLY
&nbsp New calculations show that diesel cars kill 300 Norwegians annually. Both American and Japanese reports confirm that risk of cancer are increasing by the use of diesel cars.
&nbsp - It's well known that the tiny particles from diesel releases encourage the outbreak and growth of cancer, professor Tore Sanner by the department of environment and working related cancer at the radium hospital says.
&nbsp WEEK 11
&nbsp SANCTIONS KILLING OF WOLF COUPLE
&nbsp Norwegian secretary of environment, Guro Fjellanger, is sanctioning earlier decisions, made on lower decision levels, to kill one female and one male wolf, «to protect sheep and other domestic animals».
&nbsp This, environmental groups claim, are contrary to Norway's obligation to the Variety Manifesto and other international treaties, signed by former Norwegian officials.
&nbsp WEEK 12
&nbsp NUCLEAR REACTOR INCIDENTS KEPT SECRET
&nbsp 6 «incidents» by the Norwegian nuclear research plant in the city of Halden, since 1990, has been kept secret from official records and not been reported to proper authorities.
&nbsp The word «incident» are generally used by officials in nuclear plants concerning what they deem smaller accidents, a practice not shared by any other industrial venture.
&nbsp People opposing the existence of the plant, are pointing out that it's situated just a little more than 100 meters from the nearest home.
&nbsp WEEK 13
&nbsp KILLED BY TRAIN OR WOLF HATERS
&nbsp The police is not ruling out that the wolf hit by a train in the county of Hedmark, Norway, was poisoned or dead before the train actually hit it. One possibility is that a nearby moose cadaver was filled with poison, and thereby poisoned the wolf by proxy.
&nbsp It's a well known fact that wolves hunt moose near the railroad.
&nbsp See also NO WOLVES ON NORWEGIAN SOIL
&nbsp INCREASED RISK OF NUCLEAR TERRORISM
&nbsp The risk of terrorists using nuclear weapons are increasing, a report from the norwegian institute of foreign policy claims. The reason is better access to necessary radioactive material, that it's easy to get hold of neccesary knowledge and the new terrorist groups.
&nbsp EMPTY BEER BOTTLES THREATEN THE HIMALAYAS
&nbsp Western thirst for beer has turned out to be a serious threat to the environment by the world's tallest mountain, Mount Everest, in the Himalayas. A group of Austrian volunteers have the last few weeks found approximately 56000 empty bottles by the base of the mountain.
&nbsp WEEK 14
&nbsp ONE (OF MANY) CANCER INDUCING SUBSTANCE
&nbsp A recent study shows that many hair shampoos are containing the cancer inducing substance Sodium Laureth Sulfate (SLS). This substance also found in Colgate toothpaste, is used to produce foam, and even to scrub garage floors. It's characterized as a very strong chemical. The executives for the brands using it in their products, do not deny its presence in what they're selling, but says «Yeah, we know about it, but there's nothing we can do about it, because we need that substance to produce foam».
&nbsp Recent research reveals that that the chance of getting cancer (in USA), have increased from 1 out of 8000 in the 1980s to 1 out of 3 in the 1990s...
&nbsp And the list of new chemicals, causing cancer, are increasing every day.
&nbsp Comment: This is really exposing the callous business practices of corporations in a big way. What it's also exposeing, however, is something even more sinister: It says a lot about what living in a technological society do to us.
&nbsp WEEK 15
&nbsp ONE OF FIVE IN BRITAIN POOR
&nbsp One of five in Birtain are living below defined poverty limits, a government report is showing. The report reveals that 12 millions of Britain's 59 million inhabitants, are living in poverty. The survey is done in 1997 and the number is four times higher than in 1979.
&nbsp Four million of the 12 are children.
&nbsp PIG DISEASE SPREAD TO THE HUMAN POPULATION
&nbsp The number of death after an outbreak of brain infection October last year, has now increased to 76. The virus is supposed to only infect pigs, but has decisively migrated to the human population.
&nbsp Malaysian authorities have decided to kill off 950000 pigs in an effort to fight off the virus encefalitis and yet another mysterious virus causing many deaths. The «epicenter» of the epidemic outbreak was a pig farm in the northern Perak province, and it spread from there to Negeri Semilan.
&nbsp WEEK 16
&nbsp POISON RAIN
&nbsp A major part of the rain water in Europe, is so poisonous that it shouldn't be used as drinking water, Swiss scientists reports to the magazine New Scientist. A substantial amount of the poison is fertilizers and pesticides. The chemicals vaporize easily. The vapor rise in the air, condensing and then returns to Earth as rain.
&nbsp The concentrations of poison reaches its highest level during the first showers after the farmer's summer spraying.
&nbsp WEEK 17
&nbsp This week we examine more news from our multinational corporate pals in Monsanto. This time from New Zealand...
&nbsp TIME TO PANIC?
&nbsp For the average consumer determined not to consume GM (Gene Modified) food, the only viable option is to switch to organically grown or raised food. But genetically modified crops are now seen as a major threat to organic growers, even prompting suggestions of a conspiracy by chemical companies to drive organic producers out of business. Chief Sub-Editor and organics writer Duncan Campbell explores the risk genetic modification poses to the organic industry and also asks why we should accept the soothing words of industry-supported scientists that GM food will do us no harm?
&nbsp SUSPECTED ESCAPE OF GENETICALLY MODIFIED CROP IN CANTERBURY
&nbsp Alliance MP Phillida Bunkle is looking into reports of an unauthorized spread of genetically modified canola in Canterbury. It's believed the crop was being grown in a field test by Crop and Food Research in Lincoln, and has spread because crop isolation measures were inadequate.
&nbsp There is growing concern about genetically modifed canola because of its ability to grow rapidly.
&nbsp Phillida Bunkle says she'll be looking into the incident as a matter of urgency. She says the difficulty of enforcing containment is one of the major issues concerning genetic engineering. Phillida Bunkle says New Zealand has no inspection or enforcement provisions that are remotely adequate.
&nbsp FEARS OVER GENETICALLY ENGINEERED CROPS
&nbsp The public is being urged to oppose the first mass planting of a commercial genetically engineered crop in New Zealand. Alliance health spokeswoman Phillida Bunkle says US firm Monsanto has confirmed it plans to plant thousands of acres of 'Roundup Ready Canola', throughout the south of the South Island this spring. She says the planting will pose unacceptable risks to the environment and to the human food chain.
&nbsp Phillida Bunkle says scientific studies have shown that bees feeding on genetically engineered canola plants, only live half as long as those feeding on normal crops. She says the mass planting could create a serious risk to bees, and all horticulture and agriculture in the south.
&nbsp WEEK 18
&nbsp POISON ARE KILLING OFF OLDER POLAR BEARS
&nbsp The environmental poison PCB has nearly exterminated all older polar bears on Svalbard, research director Pål Presterud from Institute of Polar Research in Tromsoe are stating. Researchers have for a long time known that polar bears have piled up huge concentrations of PCB in their body fat.
&nbsp The last research results are revealing that the situation is worse than ever believed.
&nbsp LETHAL INCREASE OF STREPTOCOCCI A
&nbsp There has been a forty percent record increase in both outbursts and deaths connected to the Streptococci A bacteria in Northern Europe so far this year. Particularly in the Scandinavian countries the bacteria's «anger» has grown significantly. «If the increase continues, it's a great concern», officials are stating.
&nbsp WEEK 19
&nbsp INCREASING NUMBER OF MEN REMOVING BODY FAT BY SURGERY
&nbsp In Norway, as in most parts of the western world, an increasing number of men are removing body fat by surgery and operative measures, no longer exercising or working out. Their presence in surgery clinics, before exclusively frequented by women, has now reached twenty percent and gaining.
&nbsp WEEK 20
&nbsp DOMINO EFFECT IN THE AFTERMATH OF SCHOOL MASSACRE
&nbsp Five 13 year old boys from New York are apprehended by the police, allegedly planning to bomb the school they're attending. They've also made a list of people they were planning to kill. The police took the boys into custody when employees by Mc Kinley Junior High School overheard them talking about blowing up the school.
&nbsp A substantial number of American schools have received shooting, bombing and death threats since the Denver Massacre.
&nbsp STRONGEST AND MOST EXTENSIVE TORNADO WAVE IN LIVING MEMORY
&nbsp At least 45 people are deceased after several powerful tornadoes have ravaged major areas in the states of Kansas and Oklahoma in USA. Winds have exceeded 400 kilometers pr hour. One tornado, reported to be more than 1 kilometer across, destroyed at least 800 homes in Oklahoma City.
&nbsp AMERICAN BEEF A HEALTH RISK
&nbsp Eating American beef may be dangerous to the health, a report from the EU veterinary committee are stating. The conclusion in the report is that the six growth hormones involved, represents a considerable health risk and may increase the probability of developing cancer.
&nbsp It's expected that the EU, from May 12, must pay fines because of their ban on hormone «enhanced» beef. The World Trade Organization, WTO, has judged the ban to be illegal, because EU «has been unable to offer adequate information to support their claim».
&nbsp WEEK 21
&nbsp GENE MODIFIED FOOD NOT MARKED
&nbsp There are still unmarked gene modified Soya sold in Norwegian health food shops, in spite of demands from the governmental body of food control. Professor Ian f. Pryme by the University of Bergen, are stating that such food may lead to a number of diseases, such as reduction in a body's ability to defend itself against diseases and plain malnutrition related diseases. Pryme believes that gene modified food may be far more dangerous than previously assumed.
&nbsp There are no demands to mark gene modified food in most of the world's nations today.
&nbsp WEEK 22
&nbsp SWEDEN: DIED OF DEATH BACTERIA
&nbsp A Swedish male in his forties is yet another victim of Streptococci A - The Death Bacteria. The last few weeks six people have been admitted to the hospital of Boras with Streptococci A infection. The admitted patients has not been in contact, presently nor previously, they've been infected independently of each other. The last victim is the fourth so far this year in central Sweden alone.
&nbsp By releasing skin dissolving chemicals Streptococci A are effectively «eating» a person alive. It's one of the fastest growing infection diseases today, virtually unknown merely ten years ago. The number of infections are increasing dramatically each year.
&nbsp Comment: For more information, see previous editions of The Weekly Report.
&nbsp WEEK 23
&nbsp SPYING ON THEIR OWN CHILDREN
&nbsp In the city state of Singapore, South East Asia, parents are increasingly so, spying on their own children, using advanced electronic devices. Shops selling such merchandise, are besieged by parents who want spy cameras and camouflaged microphones to keep a close eye on their lovely kids.
&nbsp The chief of a company selling surveillance and security equipment, says that sales have increased with 300 percent in one year. Their bestsellers are cameras camouflaged as wall sockets and smoke alert devices.
&nbsp FLOODING DANUBE ARE DROWNING BAVARIA
&nbsp The Danube flood has out major parts of the German state of Bavaria under water. At this point the flood has reached Ingolstadt, 8 (European) miles north of Munich. The police describes the situation as dramatic, but controllable. The Danube water level has reached 7.5 meters above normal, the highest since 1845.
&nbsp WEEK 24
&nbsp DISASTER DROUGHT IN MEXICO
&nbsp In Mexico, seven states are declared a disaster area, during the worst drought ever, in the country. There hasn't fallen substantial amount of rain in years, and the water reserves, are virtually empty, agricultural land has become desert.
&nbsp According to the authorities, there are now drought in one third of the country.
&nbsp WEEK 25 (Or what was revealed in Belgium last week)
&nbsp POISON IN BELGIAN POULTRY
&nbsp The EU Commission has ordered an abrupt halt in the sale of Belgian chickens, eggs and other poultry products and the subsequent destruction of it all. The products in question is dated from January 15. to June 1. This year.
&nbsp MEMBERS OF GOVERNMENT RESIGN IN THE AFTERMATH OF SCANDAL
&nbsp The Belgian secretaries of health and agriculture, have resigned in the aftermath of a scandal concerning poison in chickens and eggs. It was revealed that chickens and eggs contained the cancer inducing environmental poison Dioxin. This time the poison originates from motor oil deliberately used by the forage producers as binding matter. The minister knew about this, but failed to reveal the truth.
&nbsp PIGS ALSO POISONED
&nbsp Belgian authorities have discovered that also pigs may have been fed with the same Dioxin - infested forage as the poultry was.
&nbsp The forage, the source of the poisoning, is made by the producer Verkest, who is currently selling forage to 500 Belgian meat producers.
&nbsp Pork is also being removed from the supermarkets.
&nbsp BELGIUM: POISON SCANDAL ESCALATING
&nbsp The food scandal in Belgium continues to escalate, and people are now fearing that milk may also be contaminated with Dioxin. Numerous countries are now enforcing an import ban on all poultry, pork, meat and dairy products.
&nbsp No one have come forward with any estimate over exactly how extensive the contamination may be.
&nbsp See also CHEMICAL COCKTAIL for additional information.
&nbsp WEEK 26
&nbsp PESTICIDES CANCER INDUCING
&nbsp Pesticides and herbicides are heavily contributing to the creation and growth of tumors, Israeli, Canadian and American scientists are claiming. Contact with pesticides, herbicides and also compounds used in fuel, may be a major cause why humans get tumors in certain points of the body. These ailments are doubled the last 20 years.