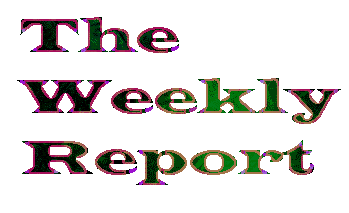 - Archive
- Week 26 to 45 1999
-
&nbsp WEEK 26 (continued)

&nbsp COCA COLA BANNED IN SEVERAL COUNTRIES

&nbsp Belgium and Luxembourg have forbidden sales of all Coca Cola products, while France and Holland has banned some Coca Cola products.
&nbsp The reason for this is that over hundred Belgian children became sick after drinking Coca Cola, probably because the soda was infected during the tapping process.
&nbsp People have gotten sick all over the world for years, drinking Coca Cola light products. This is mainly due to the company using Aspartame from Nutrasweet as a sweetener.

&nbsp See also CHEMICAL COCKTAIL for additional information.
&nbsp ISLANDS DISAPPEARED IN THE PACIFIC
&nbsp Two uninhabited islands in the southern Pacific, Tebua Tarawa and Abanua, have sunked in the ocean due to the increased sea level caused by Global Warming. It's not unexpected that these two would become among the first victims of Global Warming, but the development has come much faster than expected.
&nbsp Read more about the SEARISE
&nbsp INDUSTRIAL CHEMICALS FOUND IN AMNIOTIC FLUID
&nbsp Industrial chemicals and pesticides have been found for the first time in the amniotic fluids of pregnant women, including a byproduct of pesticide DDT. The cancer-causing chemicals were banned in the United States in the 1970s, but they degrade slowly and persist in the food supply.
There are also new chemicals, still legal, being added to the hazard list every day.
&nbsp See also CHEMICAL COCKTAIL for additional information.
&nbsp WEEK 27
&nbsp SCIENTISTS WILL BAN GENE MODIFICATION
&nbsp British scientists are discovering ever more faults on and damages caused by gene modified plants, and wants a ban. New reports shows that the very use of plants resistant towards pesticides may cause consequences far beyond the actual use, on plants, animals and of course, humans.
&nbsp HUNDREDS EVACUATED DURING FLOOD IN HUNGARY
&nbsp From Hungary it's reported that hundreds of people have evacuated their homes after torrential rain leading to flood several places in the country. More than 200 houses In two cities north of the capital Budapest, are evacuated. More rain is expected the coming days, and Polish authorities has sent out flood warning, as well.
&nbsp DANGEROUS BACTERIA IN NORWEGIAN MEAT
&nbsp Dangerous bacteria is discovered in Norwegian meat, shown in a test from the public food control administration. Half of the tested chickens are containing bacteria resistant towards antibiotics. In one third of the pork meat tested has been found bacteria, as well, resistant towards a substantial strains of antibiotics.
&nbsp WEEK 28
&nbsp JAPAN: MANY DECEASED DURING STORM
&nbsp At least 55 people are deceased and 26 injured during the days of storm and landslide and flood in the south west of Japan. 5000 buildings are set under water, and the number of deceased is assumed to rise, since 19 people are still missing.
&nbsp Major parts of the country's air, train and ferry traffic are shut down because of the storm and the subsequent consequences.
&nbsp UKRAINE: EXTREMELY HIGH CANCER RATE
&nbsp The number of cancer cases in the thyroid gland among children in the Ukraine, is several times higher than normal 13 years after the Chernobyl nuclear power plant disaster. An American report is showing that researchers registered 577 children with thyroid gland cancer during the period from 1986 to 1997. During the period from 1981 to 1985, only 59 cases was registered. Children are particularly vulnerable to this type of cancer, when exposed to extensive amounts of radioactive radiation.
&nbsp WEEK 29
&nbsp YEAR/DECADE OF DISASTERS
&nbsp 1998 was the worst disaster year in history, and the scene is set for even worse things to come. The cumulative combination of human created climate change, pollution, social political relations, the reality of finite resources and the explosion in population growth will lead to «super disasters» in the coming decade and centennial, according to the annual World Disasters Report from the international Red Cross/Red Crescent. There is left no doubt in the report that human created or human enhanced conditions are causing the increased scope and power of the disasters.
&nbsp During 1998 it was registered 311 «natural» disaster, compared to the 179 the year before. There has been 3 times more during the nineties compared to the sixties. Islands in the South Pacific have already been swallowed by the rising sea and coastal areas all over the world are basically unprotected against even the smallest sea rise. 84 percent of the world's population live by the coast and the percentage are increasing, not falling. The sea rise, storms, increasing both in number and power, will pose an ever more fundamental risk throughout the world. The Global Warming will also bring drought and all deserts are expanding in an progressive rate.
&nbsp Many scientists no longer see it as feasible to halt the rise in sea level in the short term, but rather attempt to protect ourselves from the consequences. But that is not seen as economically viable in most countries or in any way effective for very long, even by the contributing scientists themselves.
&nbsp And even as grim a view of the future painted by the report, there are those that claim that it's too optimistic, particularly in terms of humanity's ability to adapt to the coming changes. Even if the present world society should manage to cope with the initial changes, there is little doubt that the climate and the weather and the general terms of human survival will continue to change, and change many times, perpetually. And there's doubt whether or not modern society is too static to adapt so dramatically, time and time again, to ever bigger and more sweeping and irresistible changes.
&nbsp WEEK 30
&nbsp BRITISH BREASTMILK HEAVILY POLLUTED
&nbsp According to the report, «Chemical Trespass: A Toxic Legacy», by Gwynne Lyons, published by World Wildlife Foundation (WWF), there is as much as 40 times the level recommended by the World Health Organization (WHO), of dangerous chemicals in the breastmilk of British mothers. There are identified at least 350 human created poisonous chemicals, 87 of them belonging to the group Dioxin, the poison recently made infamous by the government scandal in Belgium, when being identified in animal forage. Dioxin are, among other things, causing cancer, genetic defects, personality changes and weakening the body's immune defense system.
&nbsp Experts will not, however, advise mothers from feeding their children with their own breastmilk. Alternatives, like milks from cows, are probably as much or more poisoned. And milk from the children's own mother, should in almost all cases, be preferred to artificial methods.
&nbsp WWF officials claim outrage and shock, and will now take an initiative to an extensive study in this area. They're demanding that the British government, as soon as possible, should introduce a ban of long decomposing chemicals.
&nbsp JAPAN: MAJOR LEAK IN NUCLEAR POWER PLANT
&nbsp A Japanese nuclear power plant was closed today, after a leak of at least 80 tons of feeding water. A major operation is put in motion to clean up the leak and contain it to the immediate environment.
&nbsp Leaks are common in all nuclear plants all over the world, but a release of this magnitude is rarely reported.
&nbsp Doubts are increasingly being expressed, both in scientific communities and public forums, about the safety of nuclear plants. And there are also mounting evidence to suggest that power plants «fail» to report both leaks and frequent accidents. Some outspoken critics are claiming that public and private authorities have been outright protecting the industry from exposure for forty years, while the environment and organisms have been poisoned by tons and tons of radioactive isotopes.
&nbsp Since the start of the «nuclear age», the number and gravity of cancer outbreaks have increased along a geometric curve. In the immediate areas surrounding the plants, this tendency have been even more pronounced.
&nbsp WEEK 31
&nbsp DEATH VIRUS PANIC IN RUSSIA
&nbsp At least 9 people have bled to death infected by a Ebola like virus in southern Russia. The city of Oblivskaja has been hit the hardest and is now partly isolated, BBC is reporting. The virus leads to massive internal bleeding, is fast killing and highly contagious. Russian health authorities are attempting to quell the panic and are claiming that the outbreak is contained. &nbsp
&nbsp WEEK 32
&nbsp Good news from England this week...
&nbsp DESTROYED TESTING FIELD OF GENE MODIFIED FOOD
&nbsp Environmental activists have for the fourth time in two months destroyed a testing field with gene modified plants in Northern England. The activists trampled several acres of Canola seeds and destroyed scientific data. Demonstrations and wanton destruction have increased as resistance towards GM food in Britain has increased. Many stores have already removed GM food from their shelves.
&nbsp WEEK 33
&nbsp NO WOLVES ON SWEDISH SOIL
&nbsp Wolf haters have laid traps of poisonous meat in the Swedish county of Torsby, just by the Norwegian border. But it's dogs in the area that are dying. When the dogs have eaten the meat, spiced with poison, they die slowly and painfully. &nbsp - The wolf is the last animal risking eating the meat Gunnar Gloerson in the hunting gild of Varmland says. &nbsp A group of anonymous wolf - haters has in a letter to the Swedish Directorate of Nature, threatened to kill all wolves. &nbsp But meat in plastic bags is not attractive to the wolf. It doesn't eat meat from bags and would rather kill its pray. Dogs and many wild forest animals are the ones eating - and dying.
&nbsp Comment: It would be ironic if it wasn't so tragic.
&nbsp WEEK 34
&nbsp ANOTHER PLAUSIBLE DENIAL
&nbsp Several thousands workers working in a factory in the state of Kentucky, United States, for 20 years, were not told that they were exposed to lethal levels of radioactive radiation. The factory was producing materials used in the construction of nuclear weapons. In the 1980's suspiciously high numbers of the workers contracted cancer, far higher numbers than what is considered normal in a given population.
&nbsp DISASTERS IN WAITING
&nbsp Computers systems guiding several European nuclear reactors and facilities will encounter major problems by the year 2000, the Norwegian radiation protection agency is claiming in a detailed report. Possible accidents, if steps are not taken, may range from smaller to major scale life threatening incidents.
&nbsp The situation in Russia is described as even worse, as close to hopeless. Few or none of the necessary upgrades will be made and there are severe possibilities of major, actual accidents.
&nbsp IN RELATED NEWS
&nbsp The radiation befouling Norwegian mountain areas after the Chernobyl accident are disappearing far more slowly than anticipated. Recent research are confirming that both flora and fauna continue to be far above risk levels, 13 years after the fallout.
&nbsp WEEK 35
&nbsp 33 KILLED BY MEAT EATING BACTERIA
&nbsp So far this year 33 people in Norway are deceased after being infected by the preeminent meat eating bacteria, an substantial increase from last year. During the entirety of 1998, 39 people died after being infected by the Streptococci A bacteria. During the first 8 months of this year there is registered been as much as 210 severe cases.
&nbsp Chief physician Marco Cosi by the national institute of public health, says this is an extremely severe development and that they don't know the cause of the increase.
&nbsp ICE ON THE MOVE
&nbsp A huge iceberg has torn itself loose from the Antarctic mainland and is now drifting north, toward South America. The iceberg is seen as dangerous to all ships in the area. It's 77 kilometers long and 38 kilometers wide, and is accompanied by between 100 and 200 smaller icebergs.
&nbsp WEEK 36
&nbsp EU INVESTIGATING ANIMAL FORAGE
&nbsp EU is launching an investigation, acting on information claiming that French and Dutch hens and pigs are given forage mixed with human faeces. The exposure has made Germany restrict import of French and Dutch poultry, and EU is now examining the forage.
&nbsp Dutch authorities are not denying the charges, but says the forage has been heated to 100 degrees Celsius, and are claiming that therefore it's not dangerous to eat poultry from their country.
&nbsp WEEK 37
&nbsp DRAMATIC INCREASE OF COW DISEASE
&nbsp It's reported of a dramatic increase in the cases of Cow Disease in Europe, and a substantial number of animals in France, Ireland, Switzerland and Portugal have provable contracted the disease. So far this year 17 cases are registered in France and the staggering amount of 115 in Portugal.
&nbsp The news are described, by independent veterinarians, as alarming.
&nbsp Comment: Some people have written to the editor and expressed a frightening ignorance of this subject. Their comments ranging from "What concern is this of ours" to "So what, it's only cows" and "I'm not interested, thank you, please remove me from this mailing list".
&nbsp That some "environmentalists" do not consider "animal rights" a genuine part of environmental concerns, is not altogether news. They tend to ignore every part of the unpleasant and not easily "verifiable" environment issue.
&nbsp Aside from that: What they don't know or don't want to know is that this disease has, a long time ago, spread to the human population. The last victim just a few weeks ago, was a seventeen year old girl living in Scotland. Several governments have btw (in spite of themselves) admitted that eating meat from animals with cow disease is dangerous to human beings. It's called Creutzfeld Jacob's disease and is very lethal and very fatal.
&nbsp WEEK 38
&nbsp HIGH RISK OF TUBERCULOSIS EPIMEDIC
&nbsp 80 norwegians are infected by Tuberculosis so far this year. This is as many as was infected during the entire year of 1998 and specialists fear there is a serious risk of a new epidemic in the extended region of Scandinavia and Northern Europe. A region practically free for Tuberculosis the last 50 years.
&nbsp Many of the infected have developed so called multi resistant Tuberculosis and therefore can't be cured by Antibiotics.
&nbsp WEEK 39
&nbsp WORLD STORM
&nbsp As the hurricane «Floyd» are reaching the American eastern coastline, its counterpart «York» is ravaging the far east, Asia. People are deceased in both areas and the death toll are expected to rise, as more bodies are found. In USA 2.5 million people are running from the storm, the biggest mass evacuation in peace time. The Hong Kong stock exchange has terminated all trade for the time being. 300 millimeter torrential rain fell by the Fuji mountain in Japan in less than a day. Floods, landslides and wind continues to cause havoc in the area. It's less than a month since the previous hurricane visited Hong Kong.
&nbsp This scenario, where storms are ravaging several areas of the world simultaneously, are one of several enhanced disaster scenarios predicted as part of the human enhanced green house effect, the human created global warming.
&nbsp RELATED SUBJECT
&nbsp WEEK 40
&nbsp INDUSTRY BEFORE ENVIRONMENT
&nbsp An increasing number of norwegians prefer industrial development before environment, in the cases where there may be a conflict. 56 percent will now prioritize job development, higher salaries and industrial progress. This percentage has steadily increased during the nineties, since the environmental fad by the end of the eighties.
&nbsp This norwegian report, are confirming numbers from other western countries. The majority of people in sweden, finland and other european countries are expressing the same sentiments.
&nbsp WORLD'S ENVIRONMENT WORSENED
&nbsp Improved technology has worsened the world's environment, not improved it, as some claimed it would do ten years ago. This is the unambiguous conclusion in the UN Environment year 2000 report. More effective production methods have led to more pollution, not less. Further economic growth also hailed as a solution, is another major contributor to the escalating poisoning of air, soil, water and life on Earth.
&nbsp The situation is described as next to hopeless, and it is stressed that without major changes in modern human life, it will continue to deteriorate, soon beyond the point of no return.
&nbsp WEEK 41
&nbsp GENE MODIFIED POLLEN SPREADING
&nbsp In fields in in Great Britain pollen from gene modified crops has spread from testing areas to the surroundings, in spite of confines raised by the authorities. The spread is illegal because one have sought to avoid contact between gene modified and natural crops. The pollen dust, spread by insects, was found 4.5 kilometers from the GM field. By now, in all probability, it's spread even further.
&nbsp Researchers and environmentalists have claimed for years that GM crops have and would spread and contaminate natural environment, but the authorities, in various countries, allowing GM testing and the various corporations, among them Monsanto, have denied that it could ever happen.
&nbsp Now, with contamination a proven fact, neither public or corporate authorities, are willing to offer any statement.
&nbsp Specialists who do, however, state that there is really no way to keep the contamination from spreading further. A fact, they say, that should be well known among the various authorities, as they've been told this countless times.
&nbsp JAPAN: ACCIDENT IN NUCLEAR POWER PLANT
&nbsp At least 23 people (a number steadily raising) are sent to hospital after an accident in a private nuclear power plant in Tokaimura 10 miles north of Tokyo, Japanese officials are informing. Radiation levels was 7 to 10 times higher than normal shortly after the accident, at least 4000 times a few hours later. Local authorities are claiming15000. 100 people are evacuated and over hundred thousand are advised to stay indoors. The uncontrolled reaction is continuing inside the reactor and has heavily contaminated the entire building and its surroundings.
&nbsp The accident has been described as dramatic and one of the worst in Japan ever, by cabinet secretary Hiromo Nonaki.
&nbsp WEEK 42
&nbsp CELLULAR PHONES DANGEROUS
&nbsp Scientists all over the world are now warning people not to use cellular phones, after a series of tests done independently of each other, showing similar results. Researcher Olle Johanson by the Karolinska Institute in Sweden says that rays from the phone goes through half of the brain of an adult person, even more so in children. Even limited use is influencing blood pressure, heart rhythm and hormone production of any human being.
&nbsp The increasing production and use of cellular phones is described as a typical, horrific case, where new technology is introduced without considering the consequences.
&nbsp WEEK 43
&nbsp FINALLY RAIN IN ISRAEL
&nbsp Israel celebrated rainfall Saturday, after a seven months drought. The Sea of Galilee, serving one third of the country's water supply, was at its lowest level for at least 100 years. The authorities declared water rationing in April and cut 40 percent of the farmers supply and has considered importing water from Turkey,
&nbsp RAIN STORM IN CENTRAL AMERICA
&nbsp The last weeks of torrential rain, landslides and floods in Mexico is for the time being the height of a 3 month series of consecutive rainstorms hitting Central America from Columbia to Mexico. An uncounted number of people are deceased, villages and cities are gone, hundreds of thousands are homeless. Nicaragua and El Salvador had yet to clean up after the hurricane last year when disaster hit anew. It's expected that the hurricane Irwin, soon to approach the area, will continue to deteriorate the situation.
&nbsp WEEK 44
&nbsp CELLULAR PHONE MANUFACTURERS ATTEMPTING TO BURY CRITICAL REPORT
&nbsp An american scientist, George Carlo, who during six years, has researched health hazard caused by the use of cellular phones, is now accusing the phone manufacturers of hiding the results. The charge is put forth in a letter written to the 26 manufacturers who gave him the assignment of «debunking all the negative reports about cellular phone use».
&nbsp - They're now using millions of dollars to put me in a bad light, because they don't like what I told them, he tells the London newspaper The Express.
&nbsp George Carlo is claiming to have proven that cellular phone users, are running a higher risk of developing brain cancer than other people.
&nbsp WEEK 45
&nbsp WANTS TO HAVE MICROCHIP OPERATED INTO CONVICTED FELONS
&nbsp Chief Commissioner Rolf B. Wegner in the city of Bergen in western norway wants to have a microchip operated into convicted felons «to easier keep track of them». In his extension of the statement, he says there is clearly situations where such equipment can come in handy.
&nbsp This is one of several proposals made by norwegian judicial authorities lately, to tightening the noose. Among them is easier access to unwarranted search, phone tapping and surveillance.
&nbsp Denmark has, for some time now, discussed similar tactics.
&nbsp Norway is also criticized for extended custody practices.
&nbsp In related news the EU federal police EUROPOL is pushing its proposal for EU citizens to carry mandatory ID cards. It's stated that «this will make it easier to track down and hunt wanted criminals and illegal immigrants».
&nbsp Comment: "1984", here we are
&nbsp SEWAGE AND FAECES USED TO FEED DOMESTIC ANIMALS
&nbsp France and some other european nations are feeding their domestic animals with sewage and faeces from humans. English food experts are now claiming that it's France who's now exposing humans and animals to the risk of getting cow disease. The political opposition in britain are demanding an immediate ban on French meat, but there is little hope of this being made actual policy. EU is soon to be evaluating the prolonged, «illegal» french ban on british meat...
&nbsp Comment: This is another hilarious development, another tragic comedy taken from modern existence. They're, of course, both as guilty as the other. While straining to protect their own, precious market shares, they're continuing to destroy the lives of millions.