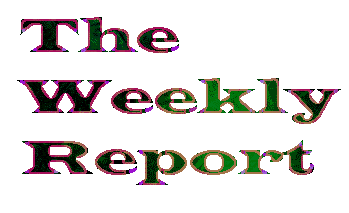 - Archive
- Week 27 to 52 1998
- ever more dangerous
---

&nbsp DO OR DIE

&nbsp "A classic divide - and - rule tactic to marginalise a radical movement is to incorporate it as much as possible into the mainstream, whilst isolating and discrediting those who refuse to be incorporated."

---

&nbsp WEEK 27

&nbsp MOSCOW: CHASTISE METEOROLOGISTS

&nbsp The mayor of Moscow is chastising the meteorologists after their inability to warn about the hurricane hitting the city Sunday night. 8 people were killed and hundreds wounded. According to the meteorologists there was supposed to be light showers, but the people of Moscow instead got hit with wind measuring 20 meters pr second and 2 hours of continuing lightning, thunder and torrential rain.
&nbsp WEEK 28
&nbsp BEAR - HUNTING SANCTIONED
&nbsp The local authorities in the county of Hedmark (Norway) has sanctioned the killing of a bear in Stor - Elvdal, and a hunting team is already on the move. The killing permit was granted after the discovery of 7 dead and wounded sheep and lambs in the area. The bear is able to move fast through substantial areas, and it's feared that it will quickly move to an area with an even higher population of sheep, west of the river Glomma.
An attempt to track and kill a bear that have hit sheep in Alvdal and Tynset, has yielded no result.
&nbsp Comments: Yes, this is the same people who want to hunt down and kill every single wolf and bear on Norwegian soil.
&nbsp WEEK 29
&nbsp BEAR LEGALLY SHOT
&nbsp A male bear was shot tonight in Tynset, Hedmark County, Norway. Killing permit was granted by local authorities after the discovery of a slain sheep. The bear has probably killed several sheep. It's the first bear killed legally in Hedmark since 1992.
&nbsp Comments: This is the second bear killed in a few days in this county. Seemingly in the defense of the sheep, one of the creatures remade into the image of the modern human.
&nbsp WEEK 30
&nbsp DANGEROUS CONTAMINATION IN BRITISH BLOOD
&nbsp British health authorities will soon decide whether or not they shall stop all blood transfusion from British donors, as they fear the blood may contain CJD - infection. Creuzfield - Jacobs Disease (CJD), is the human variant of cow disease. British authorities are now handling a report that is a result of 8 months of research. The report is yet to be published.
&nbsp US: 55 PEOPLE DECEASED IN HEATWAVE
&nbsp In USA at least 55 people are deceased in the heat wave hitting the Southern parts of the nation. The heat is hitting hardest in Texas, Louisiana and Oklahoma, where temperatures over 40 degrees centigrade has been measured the entire week.
&nbsp WEEK 31
&nbsp MEXICAN/US BORDER: THIRSTED TO DEATH
&nbsp At least 40 Mexicans has thirsted to death in the attempt to cross the US border this summer. Mexican authorities is now issuing a warning through radio and TV about the danger of crossing the border with the extraordinary high temperatures in the area. The US border patrols are carrying extra cans of water, in case they should meet dehydrated people.
&nbsp The heatwave started in May, with temperatures some days reaching as high or higher than 44 degrees centigrade. The heat is the worst in the area the last 50 years.
&nbsp HEAT AND FLOOD
&nbsp 3 nations in Central - Europe are hit by floods. The worst of it has struck Slovakia, where probably around100 people are deceased. The torrential rain started Monday evening, and led to major damage on tens of villages in Slovakia. In Poland 200 houses were flooded and two villages were isolated when a river flooded its banks. 4 people succumbed. In Tsjekkia it's reported two deceased.
&nbsp 5 people have died so far in a heatwave striking the eastern Romania the last few days. Temperatures are measured to 38 degrees centigrade. In the capitol of Bucharest at least 20 people was brought to hospitals, after the heat caused them to faint in the streets.
&nbsp This is two of several regions throughout the world where there have been extreme weather conditions of either heat or rain this summer. Other regions include China, Australia and USA. The death toll has reached 130 in 11 American states.
&nbsp MELTING GLACIER COULD RAISE SEA LEVEL
&nbsp Washington: A melting Antarctic glacier could lead to the collapse of the West Antarctic Ice Sheet (WAIS), causing global sea levels to rise up to 20 feet, researchers said Thursday.
&nbsp WEEK 32
&nbsp POISONED WATER
&nbsp The Australian city of Sidney is without secure water supplies after the entire water supply system has been serious polluted. The authorities have yet to discover the source of the pollution, or how to once again make the water drinkable. 3 billion people must cook their water. Microorganisms in the water have led to major digestion problems.
&nbsp One theory is that the pollution is caused by faeces from animals contaminating the water, after torrential rain and flood in recent weeks.
&nbsp WEEK 33
&nbsp HURRICANE RAVAGE CHINA
&nbsp The Hurricane Otto whirled the east coast of China today and its direction was the lower parts av the flooded Yangtze river. Thousands are diseased in this area because of the flood during the last weeks. The situation is about to get worse now, as the hurricane will bring more winds and rain, and there are higher risks for the dikes to collapse.
&nbsp WEEK 34
&nbsp GENE MODIFIED FOOD MAY BE DANGEROUS
&nbsp A new study by Scottish scientists, shows that gene modified food may be dangerous to humans. The study shows that rats fed by gene modified food, grow less than other rats and got lower resistance to disease. The study has led to demands to prohibit gene modified food in Britain.
&nbsp WEEK 35
&nbsp WORLD FLEET IS EMPTYING WORLD SEA
&nbsp The international fishing fleet is more than twice as big as existing resources may sustain, and the result is that the World's seas are becoming empty of fish. This is shown in a report from World Nature Fond and World Nature Conservation Fond. They both believe that the overextending capacity of the World's total fishing fleet may be as big as 155 percent, and that this is a far more severe threat than previously expected.
&nbsp THREE MILLION HOMELESS IN THE EU
&nbsp Three million people are homeless within the European Union member states, a report from Unicef shows. A major percentage are children, and youths, the report states. Worst are the numbers for Germany, where 850000 people are expected to be without a home to live. Also in Great Britain, there are huge hidden numbers concerning the homeless.
&nbsp WEEK 36
&nbsp BANGLA DESH: TWO THIRDS UNDER WATER
&nbsp The government of Bangla Desh requests international aid- Two thirds of the country is covered by water, in the biggest flood in living memory. At least 25 million people are hit hard by the flood, and approximately 4000 are deceased. 114000 are sick from a life threatening diarrhea. Water continues to flow from the Himalayas, while there are high tide in the Bengali Bay.
&nbsp TOKYO HIT BY FLOOD
&nbsp At least 13 people are deceased during the flood gaining leverage in the streets of Tokyo. Enormous amounts of rain has led to floods in several of the city's northern rivers, and has released numerous landslides. More rain and powerful winds are expected in the days to come.
&nbsp WEEK 37
&nbsp 30000 INDIAN CITIES BELOW WATER
&nbsp More than 1400 people are deceased in floods in India recently, and approximately 28900 cities are below the water surface. 53 million people are hit by the worst floods in 60 years. The eastern parts of the country are hit the hardest. Friday before noon 32 people died when a boat, supposed to save people from their flooded homes, capsized in the province of Aslam.
&nbsp WEEK 38
&nbsp 18 DEAD OF DEATH BACTERIA
&nbsp Norway have had 18 deaths caused by Streptokokk A to this date this year. It's seen as quite probable that 1998 will turn out to be a record breaking year when it comes to Streptokokk related deaths. From January to the present, one hundred people have caught disease caused by the bug.
&nbsp WEEK 39
&nbsp WORST RAINFALL IN 130 YEARS
&nbsp The worst rainfall in 130 years has hit the southern and western Holland and threatens to breach the dikes. Major parts of Belgium is under water after an unbroken 24 hours period of torrential rain. There hasn't been anything like it since 1930.
&nbsp Related news from India report 2600 deceased.
&nbsp WEEK 40
&nbsp FIRE BURNING IN THE WIND
&nbsp * The hurricane «Georges» has hit the heavily populated Caribbean island Hispanola and caused the death of at least 12 people. On Haiti 13 people are deceased earlier today. Yesterday 3 lives were lost when the hurricane scourged Puerto Rico and the Leeward islands.
It's expected to pick up speed before reaching the mainland of United States tomorrow.
&nbsp * At least 11 people are deceased, and over 250 injured when the hurricane «Vicky» reached the northern part of Japan today. Over a million homes lost electricity. In the city of Kobe a river flooded its banks and threatens to submerge part of the city.
&nbsp * 24-09-98 There are found 120 dead at this time, on the Caribbean islands after the scourge of «Georges» yesterday. By now 100000 people are evacuated from the city of Miami, Florida, on the American mainland, and plans exists for evacuating at least half a million, if the bad weather continues.
&nbsp * 25-09-98 The hurricane «Georges» have tonight reached Key West on the soutn point of Florida. Approximately 500000 people are evacuated. At least 250 are deceased so far, during the worst Caribbean hurricane in 70 years.
&nbsp WEEK 41
&nbsp SEVERE CRITICISM
&nbsp The company operating the nuclear reprocessing plant of Dounreay, Scotland, receives severe criticism, in a recent report from the British Atomic Commission. The company, according to the report, haven't managed to proceed with the planned closedown of the plant. British authorities have decided to close the plant, but it may not happen before 2003.
&nbsp WEEK 42
&nbsp HEAPS OF FOOD
&nbsp Huge amounts of beef and corn have again begin to form heaps in the EU store rooms. During the last year the amount of corn has been six doubled and the amount of beef has also increased heavily.
&nbsp WEEK 43
&nbsp «DEATH, DESTROYER OF WORLDS»
&nbsp A recent independent report, ordered by Greenpeace, claims that the contamination area around the British nuclear plant of Sellafield is as huge and as damaging as that of the plant in Chernobyl in the Ukraine. A 30 kilometer area around Chernobyl is declared «a radioactive wasteland» by the European Atomic Energy Commission and off limits for human beings.
There are today no such limitations placed upon or around Sellafield.
&nbsp WEEK 44
&nbsp GIGANTIC ICE SHELF DRIFTING NORTH FROM ANTARCTICA
&nbsp An ice shelf big as counties, has been released from the Antarctic and is now creating new speculations about Global Warming. The floating glacier has been given the name A - 38 and is the second largest registered in Antarctica. It's 150 kilometers in length and 50 kilometers in width, 7500 square kilometers.
&nbsp FERTILIZERS MAY RESULT IN BREAST CANCER
&nbsp There are a clear connection between fertilizer remains in food and breast cancer, a Danish - American survey shows. The survey is based on 15 to 20 year old blood samples from 8000 Danish women. Those with remains of fertilizers in their bloodstream were far more exposed to breast cancer than what should normally be the case.
&nbsp WEEK 45
&nbsp POWERFUL HURRICANE HEADING TOWARDS CENTRAL AMERICA
&nbsp One of the most powerful hurricanes ever registered in the Atlantic Ocean is on its way towards a number of countries in Central America. Several thousand people are now being evacuated in Belize, Cuba, Mexico and Honduras. The hurricane Mitch blows with winds up to 285 kilometers an hour and is far more powerful than the hurricane Georges who killed 500 people in September.
&nbsp RAGE/FIREWIND
&nbsp * Tens of thousands of People is now running from coastal areas of Central America in fear of the hurricane Mitch. The hurricane has till now taken the life of 42 persons. It's declared martial law in Honduras and Costa Rica, while the inhabitants of the Yucatan Peninsula in Mexico are preparing for the worst.
&nbsp Mitch is now headed for Mexico. In Honduras more than a million people are hit by the hurricane. Powerful winds and floods have destroyed houses, bridges, roads and communication lines.
&nbsp MITCH CONTINUES TO TAKE LIVES
&nbsp * The hurricane Mitch, now down graded to a tropical storm, have led to at least 72 loss of lives in Honduras and 60 in Nicaragua, to floods and landslides. Many people are also deceased in other Central American nations and hundreds are missing. At least 7000 homes are destroyed and half a million people evacuated, in one of the worst storms in this century.
&nbsp There is declared martial law in the entire Honduras and in half of Nicaragua.
&nbsp NICARAGUA: 1000 MAY BE DECEASED
&nbsp * In Nicaragua it's feared that close to thousand people have lost their lives in the landslide following the rampage of the tropical storm «Mitch». 400 is already found dead after the raging storm last week.
&nbsp WEEK 46
&nbsp FIRE BURNING IN THE WIND
&nbsp The Government of Honduras fear that as many as 5000 people have lost lives because of «raging Mitch». Extensive aid has started among those still alive. 1210 are confirmed dead in Nicaragua. It's feared, though, that as many as 1500 died during the enormous landslide that destroyed several small villages in the north of the country Friday.
&nbsp Mitch is one of the most powerful hurricanes hitting Central America this century.
FIRE BURNING IN THE WIND: 1998 HOTTEST YEAR SINCE 1106
&nbsp 1998 will turn out to be the hottest year since 1106, a report from a British research institute shows. Researchers from Hadley Centre on Climate Change believe that the world will become a worse place to live to the majority of the population in 5 years. From around 2005 huge forests will start to die because of changed climatic conditions.
&nbsp AFTER THE FLOOD
&nbsp The hurricane Mitch has now officially caused the loss of 6500 lives. The final number, however, may be three times that high, since 13000 are still missing. Many thousands more are isolated without food and water.
&nbsp WEEK 47
&nbsp MITCH: IMMEDIATE AFTERMATH
&nbsp + 12000 officially dead, twice that number missing, presumed dead. &nbsp + 7 billion worth of damages in Nicaragua alone.
&nbsp + Infrastructure virtually destroyed. Aid impossible the first few days. Cars have no road to drive. Even tanks sink deep into mud. Helicopters cannot fly because of unsurpassed torrential rain. New landslides happen and may happen frequently.
&nbsp + Diseases and epidemics flourish. There is not much food, if any at all. Water is dangerous to drink.
&nbsp + Nicaragua and Honduras are put 30 years back in terms of development.
&nbsp + Law and Order nonexistent. Government and opposition quarrel and blame the other. (For both the hurricane and the lack of relief aid, I guess).
&nbsp WARMER, WETTER, WILDER
&nbsp 1998 was the warmest year since systematic measurement started, according to the UN meteorological organization WMO. This means that the 10 warmest years measured, all have been within the last 12 year period. Every month this year have up till now been warmer than the same last year. Everything suggests that 1998 beats every single former record, WHO General Secretary G. O. P. Obasi said at the current climate conference in Buenos Aires.
&nbsp WHO has a network of 300 stations measuring temperatures from the Arctic to Antarctica.
&nbsp - By these measurements we're able to document that the concentration of climatic gases continue to increase, Obasi says. - The concentration of CO2 in the atmosphere are now 35 percent higher since before the industrial revolution. The number of storms and their strength are also on the rise. We know that warmer weather increases the strength and numbers of extreme weather conditions.
&nbsp WEEK 48
&nbsp «GENETIC INTELLIGENCE»
&nbsp Israel is working to develop a new strain of biological weapons, supposedly containing an intelligent gene. What this means is that the weapons will diversify between different genotypes in a given population. Released into a target area, it may work just on arabs and not jews.
&nbsp This is reported by the british newspaper Sunday Times. The paper are quoting israeli high military officials and western intelligence sources.
&nbsp The virus may be transferred through both air and water.
&nbsp WEEK 49
&nbsp LA HAGUE
&nbsp Discharges of radioactivity into the air from La Hague are still rising due to the reprocessing of more contaminated spent fuel. Despite these large aerial discharges, data on aerial discharges into the area are never published.
&nbsp "It's time that we get to know the full truth about the world's ' largest source of artificial radioactivity", said Diederik Samson of Greenpeace International. "After last year's documentation of marine radioactive discharges, Greenpeace was finally acknowledged by government to be an important independent source of information. We're determined to keep fulfilling this role".
&nbsp Greenpeace wants to feed the results from its research into several scientific studies on radioactive pollution around La Hague. These studies were initiated by the French government after scientific evidence of a possible relation between the plant's radioactive pollution and an increase in the number of childhood leukemia cases, was published last year in the British Medical Journal.
&nbsp RADIOACTIVE POLLUTION INCREASING
&nbsp The amount of the radioactive compound Technetium in the sea outside the city of Tromsoe in the northern part of Norway is now four times higher than a year ago. Technetium is one of several radioactive isotopes traced back to European Nuclear plants, among them Sellafield in western England.
&nbsp This is a strong tendency found along the entire Norwegian and Swedish coastline.
&nbsp - This is a situation that needs to be closely monitored, an official spokesman stated.- Even if the contamination levels are still within acceptable limits, a future escalation may give reason for concern.
&nbsp WEEK 50
&nbsp HALF OF THE POPULATION WILL GET CANCER IN TEN YEARS
&nbsp A recent study claims that half the population of Northern Europe will get cancer in ten years. It's the various culprits of increased levels of radioactivity, chemicals and the human body's reduced defense against diseases that will cause an explosive increase in all kind of diseases and cancer most of all.
&nbsp Pollution poisoning humans living in the present society, since before birth, is supposedly about to cause something resembling a molecular breakdown in the bodies of the more complex, evolved organisms on the planet. Those at the top of the food chain of a particular ecological system, like humans and predators and others, are most severely affected, but in time every life form on the planet will severely feel the effects.
&nbsp The report have so far, drawn surprisingly little attention to itself. Other officials, both within government and health, have yet to comment on it.
&nbsp WEEK 51
&nbsp CLOSING DOUNRAY COSTS 4.5 BILLION POUNDS
&nbsp British authorities has found that it will cost 4.5 billion pounds to close and clean up the nuclear plant in Dounray, Scotland. The plant is planned to be closed in 2006. The area, however, will continue to be radioactive for more than hundred years.
&nbsp Norwegian and Swedish authorities have for years protested against he plant because of the radioactive pollution in Scandinavian coastal areas.
&nbsp WEEK 52
&nbsp More good news as the year is about to end...
&nbsp BILLIONS SUFFER FROM MALNUTRITION
&nbsp 800 million people suffer from severe malnutrition and 2 billion more are severely weakened due to the lack of vitamins and key minerals. These findings are presented in a new report from the UN organization of agriculture and nutrition (FAO).
&nbsp WARMER, WETTER, WILDER
&nbsp Average temperature in North Europe and particularly Scandinavia, will rise with 4 degrees sometime into the next century, Swedish scientists predict. This means longer spring and summer. Places far north will get the same average temperatures that Copenhagen and Stockholm have today. And this is merely the first, preliminary signs. The climate will continue to change and what will happen after the manifestations of the initial stages, are at present, difficult to even speculate upon.
&nbsp Y2K
&nbsp A British government office encourages people to stock food for a minimum of 2 weeks regarding «The Millennium Bug», to prevent shortage. The advice is given in spite of government assurance of no power and food supply problems during the turn of the century.
&nbsp We do not want panic on our hands by christmas nex year, so consumers are encouraged to stock well ahead, the chief of the governmental special office for year 2000, says.
&nbsp Computer experts fear that major systems may collapse shortly after midnight New Year's Eve 1999/2000.