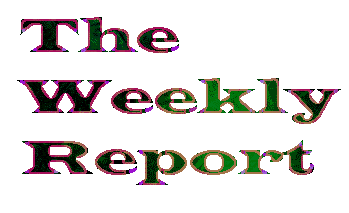 - Archive
- Week 1 to 26 1998
- ever more dangerous
&nbsp WEEK 1 1998 (22/12-29/12 - 1997)

&nbsp (What may happen in a christmas week)

&nbsp («Editors» note: A short apropos of christmas gluttony *grin*):

&nbsp Danish veterinary authorities attempts to fight off a new and dangerous Salmonella bacteria, DT - 104, that spreads like wildfire throughout Europe.
&nbsp The bacteria is difficult to treat because of its resistance towards most types of antibiotics.

&nbsp HURRICANE RAVAGES GREAT BRITAIN AND IRLAND

&nbsp In Great Britain and Ireland 4 people are deceased during a heavy storm, and several thousand homes are without electricity both christmas eve and christmas day.
&nbsp The biggest damage was done in Wales and Ireland, where the hurricane - like Storm broke trees and blocked several roads.
&nbsp 2 women in Liverpool died when a tree fell over their car.
&nbsp In Wales a motorcyclist was killed when he was blown off the road.
&nbsp In Ireland an nineteen year old man died when a wall fell over him. A French boat with 5 men onboard is missing in the Irish sea.
&nbsp WEEK 2
&nbsp THE WORLD'S POPULATION WILL DOUBLE IN 30 YEARS!
&nbsp In 74 poor countries there will be a doubling of the world's population in 30 years, according to a new American report.
&nbsp The world's total population will in the middle of 1999 pass 6 billion people, it's said in the report from an institute in Washington DC.
&nbsp The population count in 51 richest countries will be somewhat stable, something that, among other things, is caused by use of contraceptives and the fact that women choose education instead of having children.
&nbsp The institute disagrees with views in recent reports that claims that the world's population will not increase heavily.
&nbsp CENTRAL ENGLAND TEMPERATURE (1997)
&nbsp Only 2 years have been hotter in England, since the start of record keeping in 1659.
&nbsp Average temperature is 10.57 degrees centigrade this year. Only in 1990 (10.63) and in 1949 (10.62), was it higher.
&nbsp The chief scientist by the british meteorological institute says that is becoming more and more obvious that emissions of green house gases, leads to a warmer climate.
&nbsp Central england temperature is the longest continuous record keeping of temperatures in the world.
&nbsp WEEK 3
&nbsp NO WOLVES ON NORWEGIAN SOIL
&nbsp Two speakers, «mayors», in the county of Hedmark, norway, demand that all wolves on norwegian soil, must be killed.
&nbsp In letters to the government the speakers of Rendalen and Stor - Elvdal claim that all predators and especially wolves, pose a threat to all human settlement in thinly populated areas.
&nbsp If the mayors isn't heard in their demand, they «fear» that the local population will take unlawful action.
&nbsp BACKGROUND/COMMENT
&nbsp WEEK 4
&nbsp PVC CAUSES TESTICLE - CANCER
&nbsp Men working in factories producing the plastic compound PVC, runs a six time higher risk of contracting testicle - cancer than other men. &nbsp This is shown in a survey done in sweden.
&nbsp Testicle - cancer is the most common form of cancer among norwegian men.
&nbsp These results came as a surprise to scientists, says the leader of the survey, cancer - physician by the orebro regional hospital (sweden), Lennart Hardell.
&nbsp WEEK 5
&nbsp MORE CLONES ON THE WAY
&nbsp Several American cows are now pregnant with cloned calves, and the famous sheep Dolly will soon not be alone in being cloned from grown animals. The researchers behind the project have improved (*) the procedure in such a way that it becomes both easier and safer to clone an animal.
&nbsp Comment: (*) «improved»
&nbsp NO SLEEP FOR POLISH BEARS
&nbsp Grouchy and aggressive bears are now wandering the mountains in eastern Poland . The warm winter has put the worn out bears in a very, very foul mood. It's not cold enough for the bear to go into hibernation, to go to sleep for the winter.
&nbsp The foremost victims of their rage is the wild hogs in the mountain region of Bieszczady. The bears feed on food that forest rangers have placed there to help the hogs survive the winter.
&nbsp NEW RESEARCH ON INVOLUNTARY SMOKING
&nbsp A recent American study shows that people who spend only one hour a week in a room with a heavy smoker increases the risk of getting heart - and cardiac diseases with 20 percent. The results are seen as sensational and show that involuntary smoking is far more dangerous than previously believed.
&nbsp WEEK 6
&nbsp REVISED VIEW ON FUTURE SEA LEVEL
&nbsp Global climate change may lead to a sea level as much as 5 meters above that of present day, says British and Dutch scientist.
&nbsp The UN panel on climate change (IPCC), has previously claimed that the rise will be from 35 to 95 centimeters. Such a rise will also lead to dire consequences to level coastal areas. A 5 meter higher sea level will be disastrous to coastal areas around the world.
&nbsp The British and Dutch scientists have developed a climate model more accurate than previous try outs.
&nbsp COMMENT: This is BIG! So huge, in fact, that it borders on being momentous, monumental.
&nbsp 10 years ago they told us there was no such thing as Global Warming, 3 years past, it was just a few centimeters... And they admitted it was driven by human civilization. Now they begin to finally get the message. They're still preaching the low level line and do their utmost to comfort the general population, though... by lying through their gritted teeth. Maybe they lie to themselves, too, but that doesn't make it any better.
&nbsp You don't have to be a scientist to see what's going on. You just need to be observant and not wearing blinkers. That's all.
&nbsp The winter is abnormally warm. The summer will be hot.
&nbsp Isn't it GREAT!
&nbsp WEEK 7
&nbsp A LEAK ADMITTED
&nbsp An investigation is instigated by the British nuclear power plant of Sellafield after a leak recently. Two people were exposed to radioactivity during the leak, a plant spokesman confirms.
&nbsp They're now under medical surveillance. Together with 11 others, they were present when a bag with a filter for nuclear waste was ripped open.
&nbsp A part of the plant, by the Irish sea, is still sealed off.
&nbsp WEEK 8
&nbsp REGAINED CONTROL AFTER LEAK
&nbsp Production of oil on Gullfaks C (North Sea) is back on line after the halt at midnight. The halt was caused by a gas leak.
&nbsp The leak was under control after an hour. Even if the leak was a serious one, no one was evacuated from the production platform.
&nbsp The leak lead to a spill of 40 000 liters of oil into the North Sea.
&nbsp Comment: Another spill that very seldom is admitted. This poor Earth is full of never admitted spills.
&nbsp We're also told that «high speed winds and big waves prevent «saving» the oil from the sea».
&nbsp SOUTH - AFRICAN DESIRE TO CLONE HUMANS
&nbsp A South - African physician has filed an application to the local university stating his desire to clone humans. A local newspaper write that four women already has agreed to let themselves be cloned. The South - African secretary of health has no immediate plan to intervene. Earlier this year an American physician made waves when he announced plan to start up cloning clinics all over Europe and USA.
&nbsp BRITISH AID TO IRAQI BIOLOGICAL WEAPONS PROGRAM
&nbsp Great Britain exported as late as 1994 equipment to Iraq that may be used to make the deadly Antrax - Bug, the newspaper Daily Telegraph reports Saturday. A British subsidiary of the British - Dutch giant Unilever got a license to export huge quantities of growth fluids used in bacteria cultivation, to Iraq. The license was granted well after the Gulf War of 1991.
&nbsp WEEK 9
&nbsp HUGE INCREASE IN CANCER CASES IN THE COMING YEARS
&nbsp The number of new cases of cancer in Norway will increase with approximately 37 percent before the year 2010. So claim a report from the central cancer files. Annually 20000 people will be diagnosed with cancer the next 12 years.
&nbsp Comment: Another report that confirms what is happening throughout the world. Our defense system against all kind of diseases is shot to hell.
&nbsp RAVAGING EL NINO JOINED BY LA NINA
&nbsp 37 countries are hit by famine stemming from the weather phenomenon El Nino, declare UN's food provider organization (FAO). El Nino stretches as a belt through Africa, Asia, Latin - America and part of Russia, Iraq and North Korea. Both extreme drought and enormous masses of rain, is a result of El Nino. FAO is also worried because of a new phenomenon, La Nina, is on its way, with a certain cold and new unpredictable challenges to a already suffering population.
&nbsp Comment: Hah, suffering is certainly correct.
&nbsp WEEK 10
&nbsp Humans WILL be cloned!
&nbsp If USA prohibits human cloning, The American Scietist Richard Seed, will seek avenues in other countries to go through with his plans. Seed has plans of creating an international network of research centers. The scientist has earlier announced his goal to develop a human clone within 2 years. This has created quite a stir all over the world.
&nbsp WEEK 11
&nbsp A LOSING BATTLE
&nbsp Brazilian Indians are fighting a losing battle in the struggle against the partly Norwegian owned major company Aracruz Cellulose. The Indians get to keep less than 10 percent of their claimed areas, the Brazilian secretary of justice decided today. This is just a little bit more than the former rejected offer by Aracruz Cellulose.
&nbsp 26 DEAD OF STREPTOKOKK A IN TEXAS
&nbsp 26 people is deceased in Texas since December by the life threatening bacteria Streptokokk A. All in all 117 people have been infected during the same time period, the Texas Department of Health announced Friday. Among the deceased are nine children, and the disease has created a state of near panic among parents with children of school age.
&nbsp OPENS UP FOR LICENSED WOLF HUNT
&nbsp - Scandinavia is about to reach a sustainable level of wolves, and because of this it will quite soon be allowed licensed wolf hunt, says the director of the directorate of nature management (Norway) Stein Lier Hansen, to the Norwegian Public Broadcasting Company (NRK). Hansen claims that the wolf quite soon will no longer be an endangered species, and that this justifies hunting on those wolves that damage sheep.
&nbsp Comment: «damage». More about this and this defender of wild life later.
&nbsp WEEK 12
&nbsp POISON FOUND IN BARBIE DOLLS
&nbsp The doll producer Mattel have instigated investigations of their products, after demonstrated proof of Cadmium and Lead in accessories to the popular Barbie Dolls. It's especially string of pearls, handbags and belts that contain huge concentrations of lead and cadmium, which destroy brain functions and damage kidney tissue.
&nbsp TOYS MAY DAMAGE CHILDREN
&nbsp A committee put forth by the EU fears that children may be damaged by toys containing plastic softening compounds. PVC - toys and children equipment containing these compounds may lead to cancer, damage to the reproductive system and disturbances in the hormone balance. The committee wants as soon as possible new guidelines to regulate use of the compounds in toys.
&nbsp And now, this week's joke:
&nbsp - Do you want the menu, Sir? asked the waiter with hints of doubt in his voice..
&nbsp - Yes, please, answered the guest.
&nbsp - It's very simple, Sir. - Today we have beans, beans and beans.
&nbsp - Then I take beans, said the guest.
&nbsp - EXCELLENT choice, Sir, exclaimed the waiter and lit up like a christmas tree.
&nbsp FLYING NUCLEAR WASTE
&nbsp Pigeons living close to the British nuclear reprocessing plant of Sellafield, show such high levels of radiation that they should be viewed as flying nuclear waste. This says Greenpeace, who has published new data based on tests of the birds.
&nbsp The tests, ratified by an independent french laboratory, show that it's quite dangerous to ones health to even come close to the birds. The authorities have warned people not to touch or eat pigeons within a distance of 10 miles from the plant.
&nbsp ACRYLAMIDE PRESENT IN 143 COMPOUNDS
&nbsp The poison Acrylamide may be present in 143 cosmetic and hygienic products on sale in Sweden, Svenska Dagbladet, reported Friday. The producers though, have no plans to publish information of which products the poison is present. The Swedish drug control administration has asked for information about which products that may contain the cancer inducing poison. The chemical - technical supply association claims that the content of Acrylamide is probably quite modest.
&nbsp WEEK 13
&nbsp THE HAPPY PILL GIVEN DEPRESSED CHILDREN
&nbsp Norwegian children may be given the «Happy Pill» against depression from the age of 6, the publication Psykisk Helse (Psychological Health) reports. According to the publication there are produced anti - depressive drugs with peppermint taste specifically for children. The anti - depressive drugs have severe and long term side effects. In spite of this chief physician Pal Zeiner by the national center of child and youth psychiatry think that children should be given the happy pill.
&nbsp MORE CHILDREN COMMIT SUICIDE
&nbsp More and more children commit suicide, according to numbers from Statistisk Sentralbyra (National Central Bureau of Statistics) in Norway. During 1995 548 Norwegians took their own life, and of these 48 were children.
&nbsp Comment: The Norwegian population is as low as 4 millions.
&nbsp STOPPED TRAIN CARRYING NUCLEAR WASTE
&nbsp In Germany today, March 20th, 5000 protesters halted a train carrying nuclear waste. This in spite of the police being present in a massive force of 30 000 guards. Several hundred people were arrested and many had to be cut free of chains or cement used to block the railroad. 11 protesters were injured, and one police officer died after being hit by a train. The train was headed for Ahaus, close to the Dutch border.
&nbsp WEEK 14
&nbsp LIFE THREATENING SELLAFIELD CONTAINERS
&nbsp Containers that's been in use for 20 years to transport nuclear waste to the nuclear plant of Sellafield, has now been withdrawn. The reason is that the containers wasn't sufficiently secured. Several hundred tons of nuclear waste has been shipped from Germany and Switzerland. In February Scandinavian secretaries of Environment ask Britain for more affirmative action to reduce pollution by the plant.
&nbsp WEEK 15
&nbsp SMILES TO MUCH
&nbsp Norwegian Secretary of State, Kurt Vollebaek, is accused of smiling too much. «Does the Secretary of State smile too much?» a major domestic newspaper asks all over the front-page. The matter is reportedly of great concern to employees in the state department.
&nbsp - Life has been good to me. I've got no reason to be sour and moody, the poor guy replies.
&nbsp WEEK 16
&nbsp US: EXECUTIVE SALARIES THROUGH THE ROOF
&nbsp Executives in the largest American corporations enjoys 209 times higher salary than the average factory worker. This is shown in a study done by the American worker association AFL - CIO. In comparison executive salary was only 44 times higher in 1965. According to the report American executives increased their salary with 38 percent last year.
&nbsp WEEK 17
&nbsp CHEMICAL COCTAIL CAUSES HEALTH CHANGES
&nbsp The percentage of born males have decreased constantly in the western world during the last 40 years. The phenomenon has been almost unknown to this day, but is now being scrutinized by US scientists. According to an article in the American physicist journal, Jama, the scientist think that the decrease is a sign of extensive health changes. The scientists believe that one or more environmental factors are causing the changes, which they feel should be elucidated very carefully.
&nbsp Comments: Stories have, the last few years, traveled the undertow of the news world. It's nothing new about chemicals damaging the environment and people in it. The news is that news about one more destructive effect are surfacing. Shit floats. Truth will rise. I don't know what more I can say here really, how to express my bottomless abyss of anger. If nothing else justifies extreme action against the establishment...
&nbsp This outrage is it!
&nbsp Supplement:
&nbsp Stolen future, past, present, all of the above.
&nbsp WEEK 18
&nbsp MASSIVE ICEBERG ON THE LOOSE
&nbsp A massive iceberg of about 200 square kilometers has loosened from Antarctica, American satellite surveillance pictures shows. The origin of the ice massive is the huge 12000 square kilometers Larsen - Plateau, straight south of the point of South - America.
&nbsp Scientists believe the entire plateau will melt in the years to come, because of the world encompassing temperature rise. The temperature has risen 2. 5 degrees centigrade since 1940. The scientists are not certain why the results of Global Warming are more pronounced in Antarctica compared to other world regions.
&nbsp WEEK 19
&nbsp 500 CASTRATED
&nbsp About 500 men were castrated in Norway from the end of World War 2 and into the sixties. They were classified as feeble minded, and about 50 as sexual deviants. The supposed purpose was not only to prevent reproduction, but also to calm them. Also people with epileptic seizures were castrated. The castration was done with the approval of the health authorities.
&nbsp Comment: This news in a week where it also became common knowledge that Norwegian authorities administered a «race - register», at least into the eighties.
&nbsp WEEK 20
&nbsp ONE OF FOUR TAKE SEDATIVES
&nbsp One of four youths in Norway has used restricted, soothing medication/sedatives. This is shown in a survey done by the NOVA research institute.
&nbsp WEEK 21
&nbsp A BRIEF PUBLIC MEETING
&nbsp The security council of the United Nations said on Thursday it «strongly deplores» the five underground nuclear tests India has conducted since Monday and «strongly urges» New Delhi to refrain from carry out any more.
&nbsp «It is of the view that such testing is contrary to the de facto moratorium on the testing of nuclear weapons or other nuclear explosive devices, and to global efforts toward non - proliferation and nuclear disarmament», the council said in a statement read at a brief public meeting.
&nbsp WEEK 22
&nbsp SWEDEN: MORE YOUTHS END THEIR OWN LIFE
&nbsp The number of Swedish youths ending their own life has almost doubled from 1993 to 1996, a recent study shows. Suicide is now causing 20 percent of all deaths among Swedish youth.
&nbsp WEEK 23
&nbsp ILLEGAL REGISTRATION
&nbsp The police in some Schengen countries are keeping documents from the entries to the Schengen Information System (SIS) and load them into illegal registers. This is shown in the annual report to the Schengen - countries body, Joint Supervisory Authority (JSA).
&nbsp The Schengen agreement prohibits member nations to use SIS - information to anything else other than what they were meant to be used for. But SIS - documents which should've been deleted, are in some instances being kept by national police - authorities, the annual report shows.
&nbsp The Report
&nbsp WEEK 24
&nbsp GARBAGE EVERYWHERE
&nbsp A team of American climbers have carried down several tons of garbage that earlier expeditions have left behind on Mount Everest.
&nbsp - We got several tons, so much that it couldn't be brought out by one helicopter, says the leader of the team, Robert Hoffman.
&nbsp The team reached the top May 20th. They found 1.5 ton of ordinary garbage, 243 kilos of human waste, 157 empty oxygen bottles, 211 empty bottles of gas and 546 batteries. The garbage was collected between the base camp and the camp on South Col, 7906 meters above sea level.
&nbsp WEEK 25
&nbsp TREE HOUSE
&nbsp An environmental activist in the the state of California, USA, has spent the last half a year at the top of a Redwood - tree, an American giant Spruce.
&nbsp 24 old Julia Hill spends all her time in the tree in order to save it from the saws of a lumber company. She calls the tree Lula, and has since December 10th last year hold out several powerful El Nino storms and heavy verbal abuse from lumberjacks.
&nbsp She is communicating with the rest of the world by a cellular phone, gets food from supporters on the ground and takes baths in rainwater she collects at the top of the tree.
&nbsp WEEK 26
&nbsp INCREASE IN RADIOACTIVE POLLUTION
&nbsp Radioactive pollution from the nuclear re processing plant of Sellafield in England, is increasing along the Swedish and Norwegian coastline. This is shown in new measures done by the environmental organization Greenpeace. In the sea outside the Norwegian city of Stavanger, Greenpeace has measured 15 times higher radiation levels of radioactivity than in the early nineties.