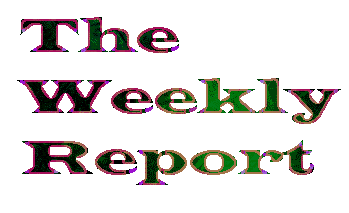 - Archive
- Week 34 to 52 1997
- ever more dangerous
&nbsp WEEK 34 1997

&nbsp CLANDESTINE REPORT ON CELLULAR PHONES

&nbsp An extensive report on how each type of cellular phones affects users, is kept secret. The Swiss scientist Niels Kuster (what a name to live up to) says to the Swedish daily newspaper Aftonbladet that he's made a deal with producers to not publish his results. This in spite of results the scientist says is very interesting to the consumers.

&nbsp WEEK 35

&nbsp HONG KONG: LETHAL INFLUENZA

&nbsp A 3 year old boy in Hong Kong is dead after he contracted a type of Influenza - Virus formerly only found in birds. International experts are called in to participate in the hunt for the infection source, and World Health Organization is informed, reports the news agency AFP.
&nbsp WEEK 36
&nbsp China: AT LEAST 240 PEOPLE DECEASED IN TYPHOON
&nbsp The ravaging by the typhoon Winnie killed Monday over 240 people and wounded 3000 in the eastern parts of China. 380000 are homeless, says local spokesmen today. The typhoon swiped the Zhejiang - province Monday and raged for 11 hours. It left in its wake hundreds of thousands of destroyed homes, flooded fields and destroyed dams and dikes. The storm destroyed 167. 000 acres of soil and destroyed for nearly 2 billion dollars. (NTB - Reuter).
&nbsp WEEK 37
&nbsp New York: THOUSANDS MARCHING AGAINST POLICE BRUTALITY
&nbsp Thousands of people in the city of New York marched yesterday against police - brutality.
&nbsp The March was a result of the alleged beating and serious sexual mistreatment in the hands of the city's policemen. Officers are suspended after the mistreatment. The Demonstrators blamed New York Mayor Rudolph Guiliani for the increasing police brutality in the city. (TV2 - CNN)
&nbsp WEEK 38
&nbsp SHOCK INCREASE IN USE OF PILLS
&nbsp The Norwegian newspaper Dagbladet «covers» the huge increase in the intake of an assorted number of pills and «legitimate» drugs. «Happy Pills», comfort pills, orgasm pill, memory pill, anti depressive pills, anti alcohol pills, uppers and downers, pills to wake up, pills to fall asleep, the list goes on and on... The sales of this stuff is doubled in Norway the last 10 years.This is a trend found in every single «developed» nation and shows how pleased people really are with their stated satisfying lives.
&nbsp How to confirm this for yourself? Just check out the annual reports released from the drug companies. It's just statistics. Anyone can read them...
&nbsp WEEK 39
&nbsp PACIFIC - HURRICANE RAVAGED MEXICO
&nbsp Mexican authorities closed today 5 harbors when the strongest Pacific - hurricane in history ravaged the western coast of the country. The hurricane «Linda» had gales up to 340 km per hour and threw 2.5 meters waves towards land. If it should continue northwards, may «Linda» be the first hurricane that hit the California - coast ever. But Mexican weather experts believe the hurricane will come to steer clear of California. (Reuter)
&nbsp Burma: MANY DIED IN FLOODS THIS FALL
&nbsp Several thousand people have lost their lives in floods in Burma the last two months.
&nbsp Relief - workers fear an even higher death toll because of diseases and destroyed crops. Half a million people is homeless because of the flood, which is caused by unusual heavy monsoon rain. (TV 2 - Reuter)
&nbsp SALMONELLA - BOOM IN DENMARK
&nbsp The number of Danes infected by salmonella has virtually exploded in 1997, reports the Danish newspaper Jyllands - Posten. During the first eight months of the year, 40 percent more Danes have been infected by salmonella compared to the same time period last year. Up till 100.000 Danes may have been hit by the bacteria so far this year, but only 4.800 are registered by Danish health authorities.
&nbsp WEEK 40
&nbsp RUSSIA: 3,8 KILO URANIUM CONFISCATED
&nbsp Russian authorities has confiscated 3,8 kilo uranium, arrested several persons, who is said to have attempted to sell the very radioactive material.
&nbsp The material of Uranium-238 was found in a metal cylinder in the home of an unemployed man in the city of Ivanov.
&nbsp After the breakdown of the Soviet Union material used to make nuclear weapons, has disappeared from power plants and research institutions.
&nbsp The politician Aleksandr Lebed said a short while ago that the nations has lost control over 100 atom suitcases.
&nbsp SMOKE - MARTIAL LAW IN MALAYSIA
&nbsp Malaysia has today declared Martial Law in the state of Sarawak on the Borneo Island because of the smoke hanging over the country the last week.
&nbsp 1,9 million inhabitants must keep indoors bacause of air - pollution, and if they have to go outside, they must use mask, says the government in a statement. Schools and private and public offices are closed, but hospitals are kept open.
&nbsp The smoke is caused by thousands of small forest fires burned out of control in Indonesia. Many of the fires is lit by people who «clear» forests for a living.
&nbsp WEEK 41
&nbsp PARIS - OCTOBER 1.
&nbsp In Paris today half of the «private» car park had to remain at home, and all public transportation was free of charge. This to reduce the ever increasing release of pollution.
&nbsp The government has measured record - breaking quantities of gasses from cars and industry, therefore pollution has reached the highest level on the existing measurement units.
&nbsp If air - quality doesn't improve during the rest of the day, the other half of the car park (that ate Paris) stay at home in the garage tomorrow.
&nbsp According to officials the pollution problem has increased because there is hardly any wind in the city at the moment.
&nbsp WEEK 42
&nbsp Both in Sweden and Norway scandals of enormeous proportions have been exposed in connection with the abrupt halt in projects of tunnel - drilling. Huge areas are contaminated with the poisonous chemical Acrylamine. In Norway whole resources of freshwater and «recreation» have disappeared or are about to disappear as a result of leaks in the tunnel roof during construction of the railway to the new Gardemoen Airport use of the very dangerous chemicals, which by the way have been used in several tunnels all over the country. No officials have reacted in spite of reported rashes and an assortment of other («allergic») reactions, like headaches and an excessive tiredness.
&nbsp Nothing new under the Sun, I guess...
&nbsp WEEK 43
&nbsp WARNED AGAINST THE TOXINS IN 1982
&nbsp As early as in 1982 a report pointed out that the chemicals used in the vain attempt to stop the leaks of Romeriksporten, was damaging to the health, reports NRK, the Norwegian «public» radio and television company. The scientist behind the report, Erik Bye, research - leader of the governments institute of work - environment, says he's surprised to learn that the leadership in the railwaycompany NSB Gardemobanen wasn't aware of the fact that they were using poisonous chemicals.
&nbsp INDONESIA: Fear brain damages.
&nbsp The government of Indonesia fears that the polution disaster in the country will lead to brain damage on children, reports Norwegian TV2-News. Since June the thick blanket of smoke has hanged over parts of the Indonesian islands Sumatra and Borneo. The smoke cover is as damaging to the health as smoking 80 cigarettes daily, according to Indonesian physicians.
&nbsp THE WORLD'S ARMS DEALING INCREASES
&nbsp The international arms trade increased with 8 percent last year compared to 1995, and all in all it was sold weapons for a total of over 40 billion dollars. Up until 1995 the level of arms trade sank each year and the trendbreak last year was caused by the the military danger in the Middle East and Northeast - Asia. USA, Great Britain and France are the largest arms exporters in the world.
&nbsp WEEK 44
&nbsp ATHENS: None wounded in bombing
&nbsp To bombs exploded yesterday evening in Athens, but no people was hurt. One of the bombs was placed outside a hotel, den other outside the office of Al Italia.
&nbsp A group who call themselves International Revolutionary Struggle is allegedly behind the bombings.
&nbsp SCIENTISTS CLAIM: Can clone headless people
&nbsp British scientists has developed a way that over time can lead to cloning of human beings without heads, claim scientists in a documentary yet to be shown. The headless human is supposed to be grown in an artificial womb and work as a organ donor. That the head is not growing is caused by gene manipulation.
&nbsp WEEK 45
&nbsp US: HAPPY - PILLS common among children
&nbsp Approximately 600 000 american children use the so called happy - pills, and more and more experts are now sounding the alarm, reports NRK (the norwegian public television company). Psychiatrist Robert Findling says that serious depressions are more and more common among ever younger people. The happy pills are criticized because they calm natural mood swings in those who use them, something that shall be even more dangerous to children possibilities to develop natural feelings.
&nbsp DANGEROUS EXHAUST
&nbsp Japanese scientists claim to have found that exhaust from diesel contains traces of the most cancer developing chemical that has ever been analyzed. Even if the exhaust contains very low levels of the tar compound 3-nitrobenzenthrone, could it still be that this substance causes many cases of lung - cancer in rural areas.
&nbsp WEEK 46
&nbsp 31 DECEASED DURING STORMY WEATHER
&nbsp 21 people lost their lives during stormy weather and flooding in southern Spain. An huge mass of water has caused the close down of several roads and railroads, reports Reuter. Also in Portugal is a storm raging, and it's reported at least 10 deceased and many wounded. According to weather reports the torrential rain is expected to continua during the day.
&nbsp TAINTED HAM SUSPECTED IN DEADLY BACTERIA OUTBREAK
&nbsp Number of people sickened rises to more than 600
&nbsp November 7, 1997
Web posted at: 1:50 p.m. EST (1850 GMT)
&nbsp CHAPTICO, Maryland (CNN) –
&nbsp The number of people sickened by a church dinner stood at more than 600 on Friday and tests indicated tainted ham and stuffing made of kale, cabbage and spices caused the outbreak that is also the suspected cause of death of two elderly women.
&nbsp "When you look at who ate what and who came down with illness, it seems that the ham sticks out in comparison with the other possible products," Dr. Martin Wasserman, secretary of the state Department of Health and Mental Hygiene said on Thursday.
&nbsp Some 1,400 people attended Sunday's fund-raiser at Our Lady of the Wayside Church in Chaptico, located 70 miles south of Baltimore. Nearly half became sick, with stomach cramps, nausea, fever and diarrhea.
&nbsp Thirty-five people were hospitalized in fair and stable condition Thursday at St. Mary's Hospital and Physicians Memorial Hospital.
&nbsp Authorities earlier had said one of the women had died of salmonella poisoning, but on Thursday said an exact cause would depend on autopsy results.
&nbsp Tori Leonard, a spokeswoman for the state health department, said salmonella was strongly suspected in one of the deaths.
&nbsp "We're looking into two, but we only have one so far that appears to be clearly linked to the outbreak," she said. "The other one we're not sure is related."
&nbsp The names of the victims, from Chaptico and Baltimore, were not released. &nbsp Mary Novotny, spokeswoman for St. Mary's County Health Department, said investigators were checking to verify which food was to blame, how it was handled and how it was processed. Commercial suppliers were being checked. &nbsp The meal has been an annual event in the quiet town of 2,000 for at least 75 years.
&nbsp Virginia Tennyson, who along with her husband, Jackie, runs the Chaptico Market and Deli which sold the ham and turkey for the dinner, said she has been selling meat for more than 30 years without a problem.
&nbsp And she has never had problems before with the company that supplied the meat for the dinner, she said.
&nbsp Mrs. Tennyson said she sold the church 68 turkeys and 38 stuffed hams, which she bought from a supplier she refused to name, but her employees didn't prepare the food.
&nbsp She said she was a principal organizer of the fund-raiser, ate there Sunday and even served her family leftovers on Monday. She said she and her husband did not become sick, but some of her six children became mildly ill.
&nbsp WEEK 47
&nbsp HAPPY PILL MAY END IN COURT
The lawyer Edmund Asboell is now giving notice about several suits of compensation in the city court of Oslo after the use of «happy pills». Yesterday the first legal proceeding of this type opened after Asboell brought in action against the drug insurance pool in Norway. The lawyer has around 30 clients who will all claim compensation on several counts, among them headaches and bad memory, after the use of the pill, reports Norwegian P4.
&nbsp WEEK 48
&nbsp FEAR WEEKLY AVIATION DISASTERS
&nbsp The international aviation - organization ICAO, fears that within a few years an aviation disaster will happen every single week, if safety standards doesn't improve. During 1996 2336 people lost their lives because of aviation accidents and caused the year to be hte most stained in aviation history.
&nbsp According to ICAO it is especially China and Russia, including countries in Africa and South - America, who got the biggest problems with safety.
&nbsp HALF OF THE PHILIPPINES HIT BY DROUGHT
&nbsp Nearly half of the Philippines is hit by heavy drought because of the weather phenomenon El Nino.
&nbsp Huge parts of the biggest island Luzon and several other islands has the last 3 months sustained a precipitation of less than 40 percent of the nominal.
&nbsp The drought will probably hit huge parts of the nation so far ahead as April next year. The government prepares emergency efforts within agriculture and water supply.
&nbsp The cause of the drought is abnormal high temperatures in surface water outside the Pacific coast of South - America.

&nbsp NEARLY 50 PERCENT SUFFERS HIGH PRESSURE AT WORK
&nbsp Three of four workers feels that their job is governed by time limits and unchanging routine. Near half says that they're submitted to high pressure.
&nbsp This is laid out by the latest life survey done by the Norwegian Central Bureau of Statistics
&nbsp The survey consists of interviews done with 3351 people from the age of 16 to 66. Similar surveys was done in 1989 and 1993.
&nbsp The numbers show that ever more workers experience high pressure at work. 44 percent feels that they, while at work, cannot speak about other things than the job.
&nbsp WEEK 49
&nbsp SEMEN QUALITY GETS EVER WORSE
&nbsp Men in USA and Western - Europe produces fewer semen cells than fifty years ago and quality seems to be even worse than formerly presumed, says American scientists. According to the scientists the semen quality of American males is 1,5 times worse than in 1947, while European males got twice as bad quality compared to 50 years ago, reports Radio Denmark.
&nbsp 1997 HOTTEST YEAR SO FAR
&nbsp 1997 will be the hottest year recorded in the world, says british scientists four days before the opening of the major conference in Kyoto in Japan.
&nbsp Global warming gives spikes in statistics that no one may explain away, claim meteorologists and scientists.
&nbsp The average temperature during 1997 will be the highest since scientific registering of temperature started in 1860.
&nbsp The report shows that the Earth's surface - temperature will be 0,43 degrees above the long term average measured from 1961 to 1990.
&nbsp NUCLEAR POWER PLANT LEAKS IN THE US
&nbsp 4 million liters radioactive waste has leaked to the ground under the power plant Hanford, in the state of Washington, USA, as reported by the newspaper Tri - City Herald. The paper quote a report from the Department of Energy.
&nbsp Health authorities are not worried. There are yet no signs that show contamination in the tap water.
&nbsp The radioactive waste is expected to reach the Columbia River in about 20 years.
&nbsp Comment: They all leak. It's just so great when someone once in a while "reports" it.
&nbsp WEEK 50
&nbsp HUGE FOREST FIRES THREATENS SIDNEY (AGAIN)
&nbsp Several suburbs in the Australian capital of Sidney are now evacuated, because several forest fires completely out of control, threatens the city.
&nbsp Smoke from the fires hangs over major parts of Sidney, and air quality is so bad that asthmatics are warned against going outdoors.
&nbsp The fire is also closing in on a nuclear power - plant in the outskirts of the city. Approximately 3000 firemen attempts to put out the fires, and two firemen are deceased.
&nbsp The fire is 155 kilometers in diameter, and has burned off an area of 130 000 square miles.
&nbsp Comment about unrelated/related subject:
&nbsp The international conferance (ask the delegates about what the subject is) in Kyoto, Japan opened this week, and will end ten days Later.
&nbsp Case closed.
&nbsp WEEK 51
&nbsp AFTER THE EMBARRASSING DELUGE PART 1
&nbsp Japan must build several new nuclear power plants with all in all 20 new reactors to comply with the demands included in the agreement concerning emissions of green house gases.
&nbsp A major part of the Japanese emissions are from fossile fuels, mostly (ordinary) power plants.
&nbsp According to the agreement Japan shall reduce the emissions with 6 percent. Nuclear reactors do not pollute, as long as there are no accidents.
&nbsp But the nuclear industry of Japan has experienced several scandals of bribes and accidents.
&nbsp Comment: Oh, this one is rich. As everything on this page it says as much about the journalist who wrote it and the paper who printed it, as of the incident itself.
&nbsp WEEK 52
&nbsp NUMBER OF DIABETES CASES WILL INCREASE VIOLENTLY
&nbsp The number of people suffering from diabetes will probably be doubled to 220 millions throughout the world within 2010. According to a survey printed in Diabetic Medicine, is the presumed increase caused by more industrialization. The disease will increase the most in the countries with the lowest capability to manage it.
&nbsp Comment: This is what we're reduced to, managing the disease...