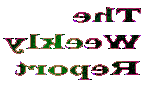 &nbsp WEEK 13 March 19th to 25th 2001

&nbsp HOW HIGH A PRICE?

&nbsp The world's largest oil rig sinks outside Brazil with 1.5 million liters of crude oil stored. In another area a ship carrying a cargo of sulfuric acid goes down. Two of an ongoing virtual limitless number of "accidents", attacks on Earth's Life recently. Factories, (man made) chemicals, cars, machines and modern human life in general are constantly attacking minor and major ecological systems, attacking Life on Earth wholesale.
&nbsp On the International Botanical Congress two years ago Dr. Jane Lubchenco of Oregon State University presented a report showing that humans have transformed 50 percent of the Earth's surface. The data also revealed 50 dead zones in thw world's coastal areas, major segments of the sea almost devoid of life. Among them deltas outside major rivers, dumping grounds for factories and human waste. One of the biggest being in the Gulf of Mexico below the Mississippi River in USA, where there are countless factories upstream.
&nbsp The cumulative effect worldwide is clear: Minor and major ecological systems are increasingly at risk of collapsing. So, what's the price of Life? one may wonder. How high a price must we eventually pay to keep up our current ways? As the number of lifeforms on the planet is dwindling, as more and more humans are getting sick and dying one may ask how far we're willing to let it go, until we call it by its true name:
&nbsp Suicide.

&nbsp

&nbsp
&nbsp DEMOLISHED GERMAN RAILROAD OFFICES
&nbsp Germans protesting nuclear power and waste "management" attacked night to Wednesday Deutsche Bahn's offices, the German public railroad company, in Berlin, protesting against the company's transport of, among other dangerous material, used Uranium rods from nuclear power plants. 20 smoke grenades were used and over 80 windows broken.
&nbsp The attack is seen as a forerunner to a much larger operation when DB Cargo on Monday once again start transporting nuclear waste.
&nbsp Radical environmentalists all over the world, long since fed up with government appeasement of the nuclear industry, are congratulating the attackers and cheering them on.
&nbsp - Attempting to harness nuclear power is suicide for the human race, one activist said in a discussion group on the Internet.- It's about time we're all facing this fact.
&nbsp Ten thousand marched today, Saturday in Luneburg, protesting the transports.
&nbsp
&nbsp
Entered 2001-03-24
&nbsp