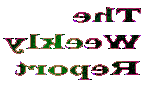 &nbsp WEEK 43 Oct 13th to 19th 2003

&nbsp THE WORLD'S WORST GENOCIDE

&nbsp Sunday Columbus Day, the day Christopher Columbus arrived at Bahamas 511 years ago was celebrated in United States and North and South America. Like a positive event, with no second thoughts.
&nbsp This time, however there were some outspoken people taking a different view.
&nbsp One of them was Hugo Chavez, the Venezuelan President. He said that the Columbus "discovery" was nothing to celebrate, on the contrary, that it was the start of the worst genocide in human history, far worse than the Nazi Holocaust of the Jews.
&nbsp United States governments have attempted to force Chavez, the duly elected democratic President of his country from office for years, by smear campaigns and instigating riots within Venezuela. And after his statement the smear campaigns have increased heavily in strength and quantity in United States established media.
&nbsp Various truly independent media have, however praised Chavez for having the guts to speak the facts.
&nbsp Before Columbus' arrival there were hundreds of millions natives on the South and North American continents. Now, merely a few thousand remain.
&nbsp
&nbsp
Entered 2003-10-18
&nbsp