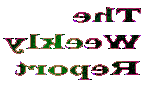 &nbsp WEEK 36 Aug 25th to 31st 2003

&nbsp SUMMER OF DEATH

&nbsp An increasing number of small children die after being left behind inside cars, under the ruthless sun in united states. They are often left by stressed babysitters or parents, doing today's shopping or being late for work. In 1998 the number of deaths were 25. So far this year it is already 36.
&nbsp In Europe several weeks old corpses have been found piled up inside apartments. It's estimated that at least ten thousand people have died because of the heat in France alone.
&nbsp - People are just underestimating the heat, an undertaker is quoted saying. - I guess they're figuring that a little heat isn't dangerous, but this is beyond anything we have experienced before. And it is getting worse, not better.
&nbsp Enormous fires are spontaneously appearing all over the northern hemisphere. In forests and ranges totally dried of moisture one single spark leads to infernos.
&nbsp
&nbsp
Entered 2003-08-29
&nbsp