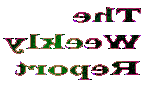 &nbsp WEEK 35 Aug 18th to 24th 2003

&nbsp HOLE IN OZONE LAYER BIGGER AND BIGGER

&nbsp The hole in the Ozone Layer above Antarctica is bigger than ever, NASA surveillance satellites are showing. There was one other report, earlier this year claiming that the hole was repairing itself, but this is now shown to be totally wrong. It is as big as Australia and growing bigger day by day. So now there is a return to an earlier assessment, that it will take hundred to hundred and fifty years for it to repair itself, since the production and release of aerosols into the atmosphere is supposed to have been reduced.
&nbsp Well, there is doubt about that. Each country or multinational corporation's report is one thing, reality something quite different. And there is also fear that other, yet unidentified chemicals are also causing the Ozone layer to collapse. This has been the case in cases of other chemicals before. The abandonment of one range of dangerous chemicals has resulted that new, even more dangerous chemicals have been used.
&nbsp There are also holes above Europe, America and all major landmasses on Earth.
&nbsp The Ozone Layer is protecting life on Earth from dangerous and even lethal cosmic radiation.
&nbsp
&nbsp
Entered 2003-08-24
&nbsp