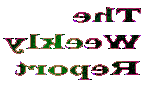 &nbsp WEEK 24 June 2nd to 8th 2003

&nbsp WAR AT THE TRENCHES

&nbsp A fortress named Evian has these days been the host of the most recent G8 meeting, the gathering of leaders from the world's foremost-industrialized countries. The French city, close to the Swiss border was chosen for its remote location and because it was easy to defend, to isolate, to close off from the outside world. But on the other side of the border and on the border itself the protests against the governments' policy of injustice and inequality continued.
&nbsp In the Swiss city of Geneva there have been riots and clashes with the police. Rich neighborhoods (there is a lot of rich neighborhoods in Geneva) have been raided and shops have been plundered. Attempts have been made to cross the border to France. Major police forces have been called to arms to stop the advances. Last night the forces shot at the protesters with rubber bullets, acts more normal in places like the Palestinian West Bank by Israeli soldiers, but now it has also been permanently adopted by European troops. The police and security forces attacked in great numbers, but the protesters still managed to retaliate in major ways, and military reserves had to be called in to deal with the escalating, totally out of control situation.
&nbsp There has been extremely limited cover of all this in the international, official media, even less so than usual. The establishment's attempt and effort to put a lid on all form of true protest is obviously increasing, not merely by introducing new and suppressive laws on an assembly line, but also by stepping up the propaganda effort and attempts to silence any opposition in public forums. Independent media and critics, both on and off the web is being attacked and ever more often closed down, its proponents arrested and jailed.
&nbsp
&nbsp
Entered 2003-06-07
&nbsp