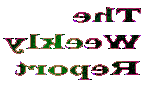 &nbsp WEEK 21 May 12th to 18th 2003

&nbsp CLOTHES BEFORE FOOD

&nbsp In various surveys across national borders recently has what has been clear for quite some time, now, been practically confirmed. Many people would rather starve than not getting their fix of this month's new fashion. A woman in her early twenties told a local newspaper that she had skipped more than one meal to be able to afford a new set of clothes, even though her older, those she had bought the previous month were perfectly okay. They were just not this month's fad.
&nbsp So she was confronted with it, what kind of values she and most of the rest of us are exemplifying today. Her response was simply this: She didn't care. If she didn't get her monthly set of new clothes and was seen in the same as the previous month, she didn't feel well with herself, and she would be "socially dead".
&nbsp
&nbsp
Entered 2003-05-12
&nbsp