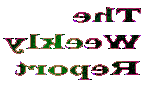 &nbsp WEEK 20 May 5th to 11th 2003

&nbsp "RED KEN" SCORNED BUSH

&nbsp - I think George W. Bush is the most corrupt American president since Warren Harding. He is no legitimate president. This said London's mayor Ken Livingstone to 200 schoolchildren Thursday. - I look forward to the day he and his administration are removed from office, the same way I looked forward to Saddam Hussain being removed.
&nbsp "Red Ken" has been a torn in the side of Tony Blair, Britain's right wing labor/socialdemocratic prime minister for years.
&nbsp The white house in Washington DC refuses to comment on Livingstone's comments...
&nbsp
&nbsp
Entered 2003-05-09
&nbsp