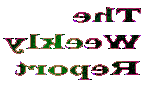 &nbsp WEEK 19 Apr 28th to May 4th 2003

&nbsp A CHILLING WIND

&nbsp - There is a chilling wind blowing across the nation.
&nbsp This was the statement of Tim Robbins, actor, director and producer not long ago. Since then he and Susan Sarandon, his companion has been denied access to several public gatherings in the United States.
&nbsp His statement was an attack on the singlemindedness gripping Americans lately. There is talk about the similarities between today and the McCarthy communist persecution in the fifties. Martin Sheen, who is playing the president in the TV-series West Wing has, among others also felt the sting of US official wrath after speaking out in public against President Bush and the war against/occupation of Iraq.
&nbsp The United States government has led a world-wide attack on what they deem the "terrorist-threat". This war has also been waged against a considerable number of US-citizens, most of them merely critics of the current course of action and clearly without any connection to any "terrorist threat".
&nbsp Many, United States citizens and others have been detained for years without due process.
&nbsp
&nbsp
Entered 2003-05-04
&nbsp