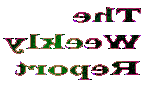 &nbsp WEEK 15 Mar 31st to April 6th 2003

&nbsp KILLER BUG COULD BE AIRBORNE

&nbsp Mystery Illness Continues to Spread

&nbsp Health experts have not ruled out that a mystery illness that has sickened 1,550 people worldwide and killed 54 might be airborne.
&nbsp And on Saturday, the disease killed Dr. Carlo Urbani, the World Health Organization doctor who was the first to identify the latest outbreak when it appeared in Vietnam.

&nbsp TORONTO - A mystery illness with no known treatment continued to spread through Asia and Canada on Sunday, killing three more people and infecting many others as officials warned it may be more contagious than originally thought. Singapore's health minister, Lim Hng Kiang, said the disease may spread more easily than first believed, with some people found to be more infectious than others. Labeled as "super infectors," they can infect as many as 40 others, he said.
&nbsp "We run the risk of a huge new cluster of infected people, which could start a chain reaction," Lim told a news conference.
&nbsp Authorities have declared a health emergency in Toronto, located 50 miles from the U.S. border. U.S. health officials have reported 62 cases in the United States. U.S. health officials said Saturday that none of the antiviral drugs and other treatments they have tested are effective against the disease.
&nbsp "The global epidemic continues to expand," said Dr. Julie Gerberding, head of the Centers for Disease Control and Prevention. "We recognize this as an epidemic that is evolving. The potential for infecting large numbers of people is great,"
&nbsp
&nbsp
Entered 2003-03-31
&nbsp