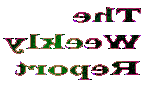 &nbsp WEEK 11 Mar 3rd to 9th 2003

&nbsp COW DISEASE DISCOVERED IN DENMARK

&nbsp Every single one of the 200 cows on a farm on Fyn in Denmark, have been killed, after a break out of cow disease. In Denmark there has now been discovered twelve cases of the disease, eleven in Danish born cows and one imported from Scotland. BSE, leading to the deadly Creutzfeldt-Jacobs disease in humans, has been particularly virulent in Great Britain.
&nbsp
&nbsp
Entered 2003-03-06
&nbsp