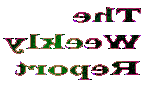 &nbsp WEEK 8 Feb 10th to 16th 2003

&nbsp EU WARNS AGAINST SILICONE IMPLANTS

&nbsp In a resolution the EU-parliament is issuing a warning of the inherent dangers by operating silicone implants, in breasts and otherwise, recommending every member state to take legal action against the procedure.
&nbsp The extensive research material is quite unambiguous. Half of all implants are likely to burst in a seven to ten year period. After twenty years the likelihood has increased to 95 percent, shocking number that has seemingly no impact on the increase of this and related cosmetic procedures.
&nbsp - The number of operations goes through the roof, an official is stating. - People seem to want surgery for anything these days. Too small breasts, too big breasts, too thin lips, too thick lips and generally anything making them closer to a perceived ideal, an ideal generally supported by Big Money... and Big money has more than a stake in the growing numbers of private hospitals or offices doing little more than making big bucks on people's vanity.

&nbsp Editor's note: There has also been an astonishing increase in operations on female and male sexual organs. Males want smaller or bigger cocks. Females want to decrease the size of their cunts. They don't like the flap in the middle "hanging down", "sticking out". Again it's people being affected by them not feeling they're what are considered "normal"... going more and more towards the extreme. What's next?
&nbsp Genetic modification, of course, how silly of me.
&nbsp
&nbsp
Entered 2003-02-12
&nbsp