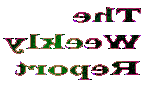 &nbsp WEEK 7 Feb 3rd to 9th 2003

&nbsp ATTEMPTED SUICIDES AT US PRISON CAMP

&nbsp There have been several suicide attempts at the United States' military prison at Quintanamo. The base, described more like an inhuman prison camp than an actual prison is housing people taken from Afghanistan during the American invasion there a year ago. American officials are calling them "detainees", not prisoners of war or even criminals. They are held without any basis in law, international or American. Human rights activists and many lawyers say it's "likely that the prisoners will remain in custody for twenty to thirty years".
&nbsp Even American officials have admitted that about ten percent of the inmates have no connection to terrorists, and that they were merely "in the wrong place at the wrong time".
&nbsp No American official will reply to the charges of mistreatment or discuss the legality of keeping people incarcerated without any sort of judicial process.
&nbsp
&nbsp
Entered 2003-02-08
&nbsp