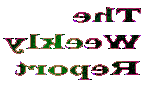 &nbsp WEEK 2 Dec 30th to January 5th 2003

&nbsp DROWNING WORLD

&nbsp Western Europe is currently drowning in a torrential rainfall without peer on this latitude on modern day Earth. The authorities in Great Britain have so far issued 399 flood warnings. In Germany, Belgium and Portugal the rivers are rising so fast, and so furious that fear is gripping the population.
&nbsp - It's like the Niagara Falls on flat ground, a bystander exclaimed.
&nbsp Traffic has been prohibited by the German rivers Mosel and Sarre because of the heavy rainfall and melting snow. More and more sports competitions are being called off, on an unprecedented scale. There isn't snow to compete on. "One can't compete without snow", a coach in downhill skiing said.
&nbsp Spring has come to the Abruzzi region in Central Italy, three months too early. Plants and flowers up to 1200 meters elevation are blooming. This in a region usually covered in deep snow this time of the year. The many bears in the area are starting to awake from their hibernation.
&nbsp On The Solomon Islands in the Pacific villages have been completely eradicated. There are hardly more than traces left on Mota Lava, Anuta and Tikopia after the ravages of the hurricane Zoe. The surviving villagers have hidden in caves.
&nbsp - We're getting increasingly close to the cataclysmic events predicted by the Global Warming scenario, World Wildlife Fund representatives gathered in central Italy say. - There are still pockets of winter in traditional cold areas, but they are declining rapidly year by year. The global warming is progressing far more quickly than we could ever imagine.
&nbsp
&nbsp
Entered 2003-01-03
&nbsp