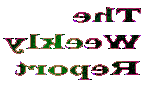 &nbsp WEEK WEEK 45 Oct 28th to November 3rd 2002

&nbsp AT LEAST 25 PEOPLE DISEASED IN STORMS

&nbsp At least 25 people died in the storms laying siege to Western Europe yesterday. The highest number in Germany, where 7 is so far confirmed dead. 6 died in Great Britain. The siege was felt over most of the continent and the British Isles. Cars were thrown off roads, trees thrown on cars and so forth.
&nbsp There was an almost menacing quality noted by people, to yesterday's weather.
&nbsp - We're seeing yet another unprecedented line of events, Karl Stermer from the Institute of Statistical Analysis in Darmstadt says, clearly upset. - Both the strength and scale, and sheer numbers of the storms occurring this year are clearly something we haven't seen before. Oh, there have been deaths before, and we have seen powerful storms before. But deaths, though not absent were rare. The massive amounts of rain, the powerful, persistent winds are something we thought we would only see on the warmer places of the planet. There is a clear, undeniable consistency here we can't keep ignoring.
&nbsp Others, both eager and not, do confirm the reasons for Stermer's worry. There is an undeniable development here, visible in the eighties and clearly overwhelmingly visible in the nineties, towards a violent change in weather and temperature patterns.
&nbsp And it will continue to change, and do so far more quickly than anybody dared to predict only five years ago. We're obviously not talking about an upcoming change, but one who has started already, and that will continue to change and bring ever worse havoc into people's lives.
&nbsp
&nbsp
Entered 2002-10-28
&nbsp