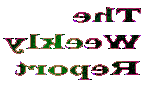 &nbsp WEEK 38 Sept 9th to 15th 2002

&nbsp EMBRACING TYRANNY

&nbsp It's official. People in Europe, Canada and United States, the so-called western world are increasingly supportive of the surveillance techniques described in George Orwell's "1984". Approximately 80 percent want tighter security along their nation's border. Almost as many want more video surveillance, more tapping of phones and generally heavier government scrutiny. All this in the name of private and public security. A huge minority is even accepting surveillance in their own home, if it can "help preventing crime or assure public safety".
&nbsp When asked if they have ever read the book or thought about the consequences of implementing the methods described in it, their reply is twofold: Either they haven't even heard about the book or they're convinced "it won't happen here". They also have little or no knowledge of the numerous ways modern technology can be used to trace their every move, to follow them around, so to speak, from morning to next morning, from cradle to grave, by electronic tracing or by purely physical means.
&nbsp - Safety is my prime concern, a father says. - Safety for myself and my family.
&nbsp When asked if he had considered whether or not too much desire for safety might lead to less safety his reply is clear:
&nbsp - You can never have enough safety, can you?
&nbsp
&nbsp
Entered 2002-09-14
&nbsp