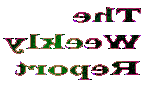 &nbsp WEEK 21 May 13th to 19th 2002

&nbsp NATURAL ODORS INCREASINGLY FROWNED UPON

&nbsp Natural odors have become a foreign, increasingly frowned upon element in modern life. Sweat, saliva and body waste have rocked to the top of people's hate list. The sales of antiperspirants, body lotions have been doubled the last five years in highly industrialized countries. Health personal are showing increased reluctance when it comes to dealing with dead people.
&nbsp A recent co-operative study between Scandinavian universities reveals a long list of natural occurrences that has become more "distasteful" among the general population the last five years.
&nbsp - It's not so strange when you're thinking it through, a student says. - We're removing ourselves ever more from nature. Commercials and science are often presenting us with products and inventions that are supposed to "improve nature". The artificial has become the norm. Nature at best outdated.
&nbsp - And while we're moving away from our own natural environment and instincts we're creating surroundings ever more hostile to life and human survival. I don't see it as strange, not strange at all.
&nbsp
&nbsp
Entered 2002-05-15
&nbsp