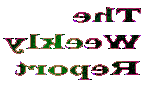 &nbsp WEEK 9 Feb 18th to 24th 2002

&nbsp SUICIDE AND DEATH IN THE OCEAN

&nbsp On the shore of France a countless number of dolphins have committed suicide recently. This has been an annual event for some years and the number of suicides is increasing though the population number of dolphins is decreasing. And the average age of the suicides is growing younger. At the start of this "phenomenon" there were mostly old individuals who did it.
&nbsp Scientists, as usual are stumped. They say they don't know why the animals do it, but to the rest of us, with our head somewhat attached to the shoulders the reason is clear. The reason is the pollution. The animals are sick and tired of being the victims of human folly.
&nbsp On the Indian ocean coast of Africa tons of fish have died and been washed up on the shore.
&nbsp In the Caspian sea the number of Sturgeons are diving towards extinction levels.
&nbsp Three recent examples of a world on the brink. Life on Earth began in the ocean. It seems logical that the beginning of the end is also starting there.
&nbsp
&nbsp
Entered 2002-02-20
&nbsp