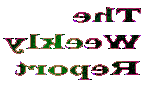 &nbsp WEEK 2 Dec 31st to January 6th 2002

&nbsp MAJOR PARTS OF DANISH POPULATION ACCEPTING TORTURE

&nbsp Nearly half of of the population in Denmark is now accepting "mild torture" if it can provide information about terrorists. The percentage has gone way up lately. During a similar survey before the September 11 incidents in the United States only 14 percent agreed to a query with the same phrase and wording used.
&nbsp - This is quite common when the ruling bodies, in various ways are applying pressure. The old Romans were clever concerning utilizing people's bloodthirsty tendencies to their own advantage. Every time something shocking happens it's either instigated or exploited by the forces behind the government, Carl Christensen, professor at the faculty of anthropology at the Copenhagen University. During Christmas and similar "sacred" functions people tend to be even more receptive, even more obedient to these forces. Like majority of the people growing up in a Muslim country will become Muslims, or in a Christian country Christians most citizens of a given government will be quite malleable to what is at any time the rulers' desires.
&nbsp Also in similar surveys in the United States and other western countries the percentage has risen along the same lines.
&nbsp
&nbsp
Entered 2002-01-05
&nbsp