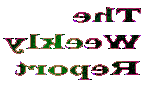 &nbsp WEEK 46 Nov 5th to 11th 2001

&nbsp SELLAFIELD: ADVANCED STATE OF DENIAL

&nbsp - Everything is dangerous, one of many citizens living close to the nuclear and dangerous tells an international reporter.- Crossing the street is dangerous, but we keep doing it anyway every day and even several times each day.
&nbsp This is one of the many explanations the locals are using to elaborate on the relative calm in Sellafield. The beaches are dangerously radioactive. The fields, the water, the humans and animals are all showing high levels of radiation and the number of cancer cases are far higher than other places, but the exterior calm remains. In an area where living birds are classified (by the British authorities) as "flying nuclear waste" that people are warned not to approach, no one is running off. Or rather: Those who have not run off already aren't.
&nbsp - There wouldn't have been jobs here without the plant, one is saying defensibly.- This is white trash area, man. No one cares about us, whether we live or die…
&nbsp And after a prolonged silence he's finishing his sentence:
&nbsp - Not even we do.
&nbsp
&nbsp
Entered 2001-11-06
&nbsp