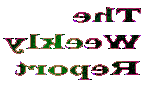 &nbsp WEEK 42 Oct 8th to 14th 2001

&nbsp FIRESTONE IS PULLING TIRES

&nbsp The car tire producer Firestone is finally pulling back 3.5 million tires of the brand Wilderness At after being repeatable approached by the American authorities. The tires have caused at least 271 deaths in the United States alone. They are mostly used on the Ford models Explorer, Mercury, Mountaineer and Ranger.
&nbsp The previous year Bridgestone, a subsidiary had to recall 6.5 million tires.
&nbsp
&nbsp
Entered 2001-10-09
&nbsp