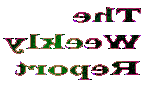 &nbsp WEEK 30 July 16th to 22nd 2001

&nbsp MISSILES TO PROTECT G8 MEETING

&nbsp In the ongoing propaganda war against protesters the Italian government has installed land to land missile defenses against what is called "a possible terrorist attack". The harbor city of Genova is to be host for the next meeting in the G8 club of the world's richest and most powerful and influential nations. Rumors and plans of attacks are claimed to be abundant in Italy before the meeting scheduled to start July 20th.
&nbsp Critical questions whether or not this is just more hot air, more diversionary tactics to avoid replying to critical questions poised by the increasing number of protesters concerning the new, old "Brave New World"… are ignored.
&nbsp The EU "free movement" laws are rescinded on Italian borders the week before the meeting. There will be passport control and "undesirables" will, if possible be denied access to the country. Cellular phone networks are shut down during the days of the meeting.
&nbsp Other "rumors and plans" unveiled by investigative reporters in the alternative press, are more than suggesting that a new strategy of harder measures concerning protesters was decided upon shortly before the Gothenburg meeting. This new strategy also included/includes more adamant propaganda tactics from the world's most influential circles.
&nbsp
&nbsp
Entered 2001-07-16
&nbsp