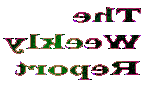 &nbsp WEEK 29 July 9th to 15th 2001

&nbsp IN FEAR OF THE SUN

&nbsp Saturday July 7th was one searing hot day in Northern Europe, certainly the hottest in a long time. The sun was shining from a clear, blue sky and water temperature, too, was far above average most places.
&nbsp But many people still stayed indoors. The beaches were not filled with people, as one should expect.
&nbsp National UV registration offices issued the evening before a warning og high levels of radiation due to an even thinner than usual ozone layer, the layer protecting us against cosmic radiation. People were advised not to be out too long and be well covered if they indeed chose to go outdoors.
&nbsp An UV - index above 6 is considered dangerous and the measurement was well above that in most places Saturday.
&nbsp This is another line of evidence recently of an Ozone layer growing dangerously thin, all over the globe. In western United States, in June people were warned that 15 minutes exposure to the sun was sufficient to cause skin cancer.
&nbsp Since then several experts has gone on record stating their concern, both in an immediate and in a further perspective.
&nbsp - Predictions of daily, dire dangerously low levels of protective Ozone by concerned scientists and individuals ten years ago were described as "far fetched" and "science fiction" by politicians and industrial leaders then. Now the even more dire predictions are met with the same, dangerously ignorant response.
&nbsp
&nbsp
Entered 2001-07-09
&nbsp