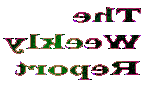 &nbsp WEEK 21 May 14th to 20th 2001

&nbsp GOVERNMENTS SHARE BLAME WITH INDUSTRY

&nbsp According to a French senate report various governments share blame with the agriculture industry fro the spreading of Cow Disease. The report points at all French governments from 1988 to 2000 for appeasing economical interests, and thus allowing Cow Disease to spread to the human population. The various administrations did nothing substantial to halt the use of spine fodder because they were afraid of halting economic development. Once more we see the close relation with governments and economic interests, resulting in, the very least, murder by default.
&nbsp
&nbsp
Entered 2001-05-17
&nbsp