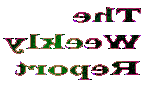 &nbsp WEEK 14 March 26th to April 1st

&nbsp THE WORLD'S ECO SYSTEM(S) ABOUT TO COLLAPSE

&nbsp According to a recent UN Report The Earth's Ecological systems are breaking down in an alarming rate, and will collapse if modern day human society continues on its present course. 175 scientists from all over the world, who have worked on the report for two years, are not drawing a pretty picture.
&nbsp The situation has worsened in major ways the last few years. Half of the forests are gone. Two thirds of agriculture land is impoverished. 70 percent of the fishing banks are taxed beyond sustainable levels. The Earth's capacity to sustain any sort of lifeform is severely damaged. Humans have always moved on to the next area when one is unsustainable. This is no longer possible. If drastic measures are not taken, small and major ecosystems are facing a slow, inevitable collapse.
&nbsp
&nbsp
Entered 2001-03-27
&nbsp