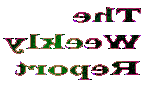 &nbsp WEEK 14 March 26th to April 1st

&nbsp SEVEN PROTESTERS INJURED

&nbsp Seven protesters were injured by the police in Germany today, when a train with nuclear waste from France passed through the bundesstadt Rheinland Pfalz. 30000 policemen and additional security has been set to guard the route by German authorities to protect the trains against the massive , ongoing protests. Police officials refuse to comment on and won't admit that people has been injured, but says that "people will be kept away from the railroad and that attempts to disrupt legally sound activity will be stopped by any means necessary". But in spite of this, in spite of one of the more brutal police-operations in recent years, several hundred protesters managed to break through the iron wall and sit down on the railway. They were removed, but not until stopping the train for a considerable amount of time.
&nbsp The first train in four years left the station at the France repossessing plan La Hague today, a plant almost as infamous as the British Sellafield.
&nbsp This is one more case in a row where The Greens are losing credibility in environmental issues. The Greens has been in a coalition with the social democrats since the previous election.

&nbsp The insanity of attempting to harness nuclear power

&nbsp GERMANY 2001-03-28

&nbsp The train with German nuclear waste, "reprocessed" in France is now moved 25 kilometer back, from Dannenberg to Dahlenburg. The successful attempt to stop the train was made in Dannenberg, just south of the major city of Hamburg last night. A spokesman for the protesters says that 10000 people will block the roads for the trucks attempting to move the waste to Gorleben later today.
&nbsp - We should have been millions, he said.- But we'll make do with the number we got. The monster, the machine of society is moving endlessly, relentlessly, but so are we.
&nbsp The waste is supposed to be stored in Gorleben in Niedersachsen. The train will for the time being stay put in Dahlenburg.
&nbsp
&nbsp
Entered 2001-03-27
&nbsp