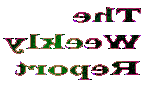 &nbsp WEEK 2 January 1st to 7th 2001

&nbsp "DEPLETED" URANIUM STRIKES AGAIN

&nbsp Lately a host of diseases formerly known as the "Gulf-Syndrome" has been re-named the "Balkan-Syndrome".
&nbsp Grenades "enhanced" with "depleted" uranium used during the Gulf war ten years ago caused a lot of people, among them a host of American soldiers to develop Leukemia and other cancers. A substantial number has died. To this day the United States government and its military authorities have denied that there is any connection between the unnatural high number of cancer cases and the use of the so-called "DU-ammunition". They have also refused any responsibility for those afflicted.
&nbsp The last few years, however, there have been major developments in the case. Recently an abnormal high number of Norwegian, Portuguese, Spanish, Italian, Greek and Danish soldiers serving in the United Nation battalion in Kosovo following the NATO attack on Serbia, have been contracting cancer as well. Both NATO and American military sources are keeping up the policy of "non-admission", but the evidence is mounting. The Italian government has called for "a thorough investigation into the matter". The issue is no longer one left solely to the American government to decide.
&nbsp Soldiers were warned before going to be "cautious" when approaching destroyed tanks and such.
&nbsp Many have speculated why American (and British) military are using DU-ammunition. The obvious explanation is the increase in destructive power. But there are also others who believe and claim there are other, murkier explanations.
The nuclear experiments during the fifties and sixties on soldiers and also the general population are also something American civilian and military authorities have refused to take any sort of responsibility for. On the contrary: A general was caught in the act, so to speak, while saying that "the people of the city of StGeorge, Utah, weren't a very productive part of the population". Nothing is ever been done about the general in question or the fact that a radioactive cloud killed a major part of that area's population. No one is convicted of anything, but has instead been rewarded tons and tons of medals and career opportunities. Experiments on "feeble minded" and prisoners and also parts of the general population, where people were given direct injections of lethal radioactive isotopes. Chemical and bacteriological warfare and experiments on volunteer students for money and scholarships. These facts and more is an integrated part of the Post World War 2 "make up". No one is ever made responsible for any of it.
&nbsp And then there is perhaps the most important connection: The ties between the military in nuclear power countries and the corporations owning nuclear power plants. The nuclear industry has always been protected by layers upon layers of secrecy and precisely those excellent relations to the industrial/military complex. Not so strange perhaps, since they're an integrated part of it. Of course. They're a necessity to it.
&nbsp It does seem far-fetched, doesn't it, and even insane, to use weapons on their own population, their own soldiers?
&nbsp Well, someone will claim that it, and the latest developments, testing people's tolerance to hard radioactivity, is merely a logical extension of an already insane system. And that the last ten years of actions on their part are more than suggesting that they're getting even "bolder".
&nbsp
Entered 2001-01-07
&nbsp