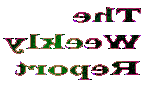 &nbsp WEEK 1 December 25th to 31st 2001

&nbsp MANY HOLIDAY ACCIDENTS ALONG THE NORWEGIAN COAST

&nbsp In the Christmas holidays, during an eleven days period there have been five marine accidents along the Norwegian coastline, two of them considered major. And in each case the routine message was broadcast: "There will be no major oil spill or pollution because of the accident. And certain as rain, the day after, several square miles of oil was visible on the surface. 150 tons eventually leaked from Green Alesund, somewhat less from the other wrecks. Outside Portugal one ship went down. This is the norm rather than rare occurrences worldwide. Bad weather is usually the excuse these days, but before the accidents the ships are said to be able to handle bad weather.
&nbsp The new "rigid" rules politicians said would be in place after a year or two, after the series of ship disasters by the end of the eighties and start of the nineties... are still not in place. One politician was quoted some years after the Scandinavian Star disaster of saying: "Implementing rigid rules would have seriously damaged economic activity".
&nbsp
Entered 2000-12-30
&nbsp