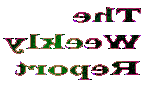 &nbsp WEEK 53 Dec 18th to 24th 2000

&nbsp Something for the sweet christmas holidays...

&nbsp AMERICANS EVER FATTER

&nbsp Americans have expanded even more just above the belt. Six out of ten Americans can be classified as overweight, according to a recent survey. Simultaneously there are a volatile increase in the minor and major cities of people who are starving or are malnourished, among them a growing percentage of children.
&nbsp The recent numbers are confirming the "myth" of fat Americans, a myth no longer. 35 percent of the population can be said to have a "definitive overweight", while as much as 26 percent have such a width that they can be classified as Fat.
&nbsp - There is absolutely cause for worry, says physicians and nourishment experts.- There was reason for worry 25 years ago when the first bloated youth started appearing in greater numbers, and there is a much greater danger today, while fat people are about to become the norm. A few pounds overweight aren't necessarily a health risk, but what we're seeing these days are beyond any common sense.

&nbsp Related news: 1.1 BILLION OVERWEIGHT WORLDWIDE

&nbsp According to a recent report from World Watch Institute there are now over 1.1 billion overweight people on Earth and the number is increasing worldwide.
&nbsp In the United States 61 percent of the population is overweight. Annually 300000 Americans indirectly die because of this.
&nbsp For the first time in history there is an overweight... errr majority of the population in some societies who can be said to be fat. This is now a major health concern and a threat to the general welfare, medical experts are stating.
&nbsp
Entered 2000-12-21
&nbsp