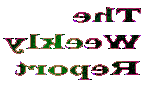 &nbsp WEEK 50 Nov 27th to December 3rd

&nbsp World Bank: ONE BILLION WORTH OF DAMAGE

&nbsp Heavier storms and searise have inflicted one billion dollars worth of damage upon the islands in the South Pacific the last decade. A report from the World Bank is quite decisive when blaming the human-created Global Warming for the damage. The World Bank believes the out of control climatic changes is the most important challenge for humanity in the 21st century. If decisive action isn't instigated, and soon, the result will be disastrous, the report states.
&nbsp
Entered 2000-11-29
&nbsp