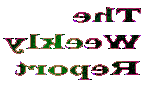 &nbsp WEEK 6 January 29th to February 4th

&nbsp GERMAN-FRENCH AGREEMENT ON NUCLEAR WASTE

&nbsp The French president Jacques Chirac and the German prime minister Gerard Schroeder have agreed to resume the French-German transport of nuclear waste. The two met Wednesday in Strasbourg, in the north of France. The transports were halted in 1998 after a series of protests and attacks by anti-nuclear protesters. They were supported by a surprisingly high number of the general population after it was revealed that the discovery of leaks in wide areas outside the "safe" containers had been attempted kept secret.
&nbsp The transport was set to resume in August last year, but was postponed once again.

&nbsp

&nbsp
&nbsp DANGEROUS GARBAGE
&nbsp A garbage disposal plant outside the city of Bergen (Norway) has released five times more Dioxin than they're legally allowed. The management says they have no idea how this has happened, but "recent controls show that it's an empirical fact". The rules say, strangely enough, that there must be at least two more controls, though, to satisfy protocol. As it ever seems, the laws and regulations are on the polluters' side. The first one will be done in two weeks and the second discontinued in March. If it's shown then that the releases continue at its high level, then a formal decision will be made. In the meantime the pollution continues.
&nbsp Dioxin is a so-called endocrine disrupter. It's interfering with an organism's hormone production and causes cancer and countless other damaging and deadly effects.
&nbsp The legal limit, in Norway, as in every country in the world, is set far above the maximum release recommendations by the World Health Organization (WHO).
&nbsp
&nbsp
Entered 2001-02-03
&nbsp