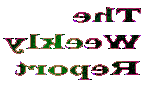 &nbsp WEEK 39 Sept 11th to 17th

&nbsp SUN-SHY CHILDREN LACKING VITAMIN D

&nbsp The current emerging generation of adults has changed the habits of previous generations concerning outdoors activities. As their parents before them. For every new generation there are less natural activities, more time spent indoors, less time used to exercise. Lack of sunshine results in lack of vitamin D. More time indoors, less use of shorts and increased use of "protecting" sun-lotion are reasons why British children have developed vitamin D deficiency. This may lead to, among other things, distortions of skeleton growth. And on a similar note: There has been found widespread muscle atrophy beyond mere lack of exercise. Humanity is all by all, moving far less, generation by generation. Some science fiction writers and thinkers have envisioned a future where all humans are sitting in a chair their entire life, passively being fed information through an implant, receiving nourishment through intravenous coils. The signs are clear: We're getting there.
Entered 2000-09-13