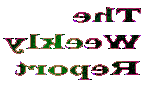 &nbsp WEEK 39 Sept 11th to 17th

&nbsp THE OZONE LAYER DECREASING AT RECORD SPEED

&nbsp The ozone layer over the Antarctic continent is decreasing at record speed, according to the UN organization WMO, (World's Meteorological Organization), Satellite observations show that the ozone concentration is reduced with approximately 30 percent, compared to the average for the years 1964 to 1976. The "hole" measured in September 1999 an area 2.5 times bigger than Europe.
&nbsp At this point it's fairly obvious that earlier statements concerning the patient's health, were at best premature.
Entered 2000-09-13