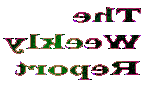 &nbsp WEEK 37 Aug 28th to September 3rd

&nbsp NORWAY: 1300 PEOPLE DIE BECAUSE OF THEIR WORK ANNUALLY

&nbsp 1300 Norwegians die each year because they come into contact with chemicals at work. In a thinly populated country like Norway, this is a high number indeed. The numbers are pulled form an analysis made by the Norwegian workers protection agency. This is stated In a new, sensational report from the agency. An analysis meant to aid in the development of a new set of regulations concerning use of chemicals.
&nbsp Additionally there are 300 deaths caused by asbestos alone. There has been a ban on the use of asbestos for years, but the remains of its former use, are still found everywhere. There is now concern if other and also newly introduced chemicals will be shown to have similar, devastating effects 20 years hence. In addition to the pronounced effects already discovered.
Entered 2000-08-30