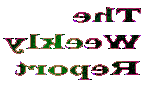 &nbsp WEEK 37 Aug 28th to September 3rd

&nbsp THE TOBACCO INDUSTRY BRIBED DOCTORS AND POLITICIANS

&nbsp Scandinavian doctors and politicians have received huge sums of money from the tobacco industry, to understate the dangers of smoking. Scandinavian media have made several exposÚs of this recently. Secret documents reveal that leading medical scientists are on the payroll of Philip Morris and other companies. Among the politicians are a former Danish Secretary of state/Minister of Foreign Affairs.
Entered 2000-08-30