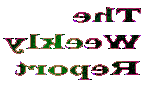 &nbsp WEEK 35 Aug 14th to 20th

&nbsp SOYA CAUSES BRAINDAMAGE AND CANCER

&nbsp Eating Soya products are increasing the risk of breast-cancer in women and brain damage in men and deformities in newborns, American scientists report. The exposure is sending shockwaves through the food processing industry, according to the British newspaper The Observer.
&nbsp Soya is one of the most used ingredients in food products today.
Entered 2000-08-16