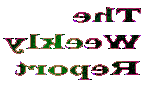 &nbsp WEEK 32 July 24th to 31st

&nbsp ANOTHER JAPANESE NUCLEAR PLANT CLOSED

&nbsp Another Japanese nuclear plant, also owned by Japan's biggest supplier of electricity, has been closed. After a leak of radioactive material, there was raised serious doubt about the safety of continued operation. The radioactive leak followed an oil spill.
&nbsp Friday another plant was closed because of an earthquake.
&nbsp There has been a series of accidents, as opposed to «incidents» by Japanese nuclear plants the last five years.

&nbsp Late news: As of this moment one more reactor has been closed.
Entered 2000-07-26