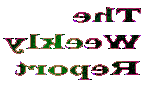 &nbsp WEEK 16 April 3rd to 9th

&nbsp ASSEMBLY LINE ICEBERGS

&nbsp Hardly more than a week after the last iceberg broke loose from the Ross Ice Shelf, another albeit smaller, has loosened from the Antarctic mainland, and is now joining its big brother on its way towards Cape Horn. The tempo of «calving» is increasing, both measured in recent months and recent years. Concerns are restated about what is happening to the entire West Antarctic Ice Shelf (WAIS). Is it truly about to melt completely, and if so, how fast will it melt? What is happening to the entire 4.8 thick Antarctic Ice Shelf? These are grave questions being asked with ever growing frequency around the world.
Entered 2000-04-06