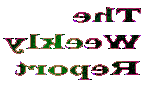 &nbsp WEEK 14 March 20th to 26th

&nbsp CURRENT IMPRESSIONS FROM PLANET EARTH (IV)

&nbsp In a an interview survey on subjects randomly selected from around the world, concerning the changes in climate and the environment in general, engineer Paolo Vasquez currently residing in Sevilla, Spain, has this to say:

&nbsp - The ground is dry, I mean, really Dry. It does rain occasionally, but even after heavy showers, the soil is still looking dry. I take a shuffle and stick it ten centimeters down, and when I withdraw it, the point is full of dust. This used to be a green, lush area, just ten, fifteen, even five years ago. We had a drought lasting five years from 1988 to 1993 or something. We got rain eventually, but the groundwater level never really recovered, I guess. And the ground is just drying up. You know what I heard? That it was lush forest once covering the entire North Africa, that Sahara was just a tiny pinprick in what is now Sudan or something. I can believe that, man, I really can...
Entered 2000-03-25