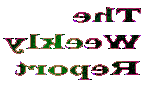 &nbsp WEEK 13 March 13th to March 19th

&nbsp CURRENT IMPRESSIONS FROM PLANET EARTH (III)

&nbsp In a an interview survey on subjects randomly selected from around the world, concerning the changes in climate and the environment in general, account manager Louise Jordan currently residing in Toronto, Canada, has this to say:

&nbsp - It was like the Niagara Falls on flat ground. It was absolutely unbelievable. The water was moving horizontally and even up the road and the field. I and some friends had tied ourselves to what was left of our house. You could hardly breathe in the heavy shower, the torrential rain, and you couldnít see much. But what i saw was so evident that I couldnít have been mistaken. Others saw it, too. Cars and buses were flying through the air. Water was flowing from the new lake below and upwards towards us, hitting the concrete like a number of hammers. You know, Iíve been to the tropics and experienced a hurricane there, even huge twisters, but this... this... in many ways it was worse. It had almost a... a... sinister quality to it. I know, I know, itís just Nature, not a conscious Force, but that was how we felt at the moment, how we still feel. It was Scary, man.
Entered 2000-03-14