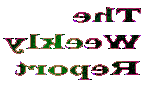 &nbsp WEEK 12 March 6th to 12th

&nbsp ANTI DEPRESSIVE DRUGS GIVEN TO TWO YEAR OLDS

&nbsp Parents have started giving anti depressive pills to two year olds. This is shown in a broad recent survey. This in spite of the fact that physicians can't rule out this may damage the development of the brain. Psychiatrists and drug producers, have succeeded in convincing people that «problem children» are the cause of biological and genetic defects.
&nbsp - Use of «happy pills» are on the way up all over, says a psychiatrist who wish to remain anonymous.- In all segments of society, all over the world. This is a good thing. People should take more pills, allow chemicals to regulate their ever shifting mood. They get to be more satisfied. Problem kids cease to be problem kids and adults can better withstand the demands of society. Production will rise and everybody will be happier.
Entered 2000-03-06