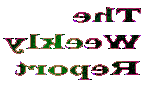 &nbsp WEEK 11 Feb 28th to March 5th

&nbsp CURRENT IMPRESSIONS FROM PLANET EARTH (I)

&nbsp In an interview survey on subjects randomly selected from around the world, concerning the changes in climate and the environment in general, housewife Helga Kramer currently residing in Frankfurt, Germany, has this to say:
&nbsp - Itís never... quiet anymore, is it? I, for one, have to think real hard to recall a calm day or night, where the wind is not blowing. Oh, there were strong winds before, too, of course, there has always been... But not this... constant noise everywhere. And the heat... we used to have winters you know. A calm blanket of snow. The first snow could come already in October and the cold last till March. I remember snow in the end of April. Itís not my imagination, you know. Iíve heard some people say it is, that we donít properly recall the weather in our youth, when my great grandfather says the climate and the weather has changed completely since his youth, heís just forgetful... But I tell you I donít buy that for a minute. Itís not difficult to sense the major changes, you know. All you have to do is listen and take a look out of the window... In my opinion some people ęfailĽ in doing just that. And still theyíre being hailed as ęexpertsĽ.
Entered 2000-02-29