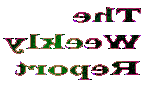 &nbsp WEEK 11 Feb 28th to March 5th

&nbsp GLOBAL WARMING PROCESS ACCELERATING

&nbsp The human created Global Warming is speeding, speeding even faster than earlier expected. The change measured since 1976 is correspondent to 4 degrees Celsius in a century, twice as much as the conclusions made by the UN - appointed IPCC (Intergovernmental Panel on Climate Change) five years ago. This is shown in a report from the national American atmospheric association.
&nbsp «Everything on this point must be said to be preliminary. The warming seems to increase along a geometric line, and given this, we can't say that it won't accelerate further».
Entered 2000-02-29