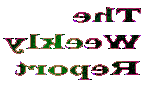 &nbsp WEEK 5 Jan 17th to 23rd

&nbsp Super-Secret Global Surveillance System Eavesdrops on Conversations Worldwide

&nbsp Is the super-secret National Security Agency, working with its counterpart agencies in England, Canada, Australia and New Zealand, eavesdropping on private communications from around the world? Credible reports suggest that a global electronic surveillance system -- known by the code name of "Echelon" -- is indeed capturing satellite, microwave, cellular and fiber-optic communications worldwide.
&nbsp No longer dismissed as an X-files fantasy, Echelon is raising serious privacy concerns in Europe and here in United States. But much is still unknown about the system, which apparently allows security agencies to use sophisticated filtering technology to sort through conversations, faxes and emails searching for keywords or other flags. Some reports have charged that Echelon has been used in the United Kingdom to spy on charities such as Amnesty International and Christian Aid.
&nbsp This massive surveillance system apparently operates without the oversight of either Congress or the courts. Shockingly, the NSA has even refused to disclose to Congress and the public the legal guidelines for the project. Without those legal guidelines, there is no way of knowing if the NSA is using Echelon to spy on Americans in violation of federal law.
Entered 2000-01-22