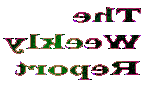 &nbsp WEEK 29 July 3rd to 9th

&nbsp RECORD BREAKING TEMPERATURE IN SOUTHERN EUROPE

&nbsp Record high temperatures are presently being recorded in Southern Europe, in Italy, Greece and on the Balkans. 42.5 degrees Celsius in Greece, 50 on Sardinia. Parents of people living here, have not experienced something like it, not grandparents and not their grandparents. It's safe to say that no people living in Southern Europe have ever experienced something equal to this. Many people have died and to keep more from dying, public buildings with air condition, are being opened to the public.
&nbsp The desert has spread to Europe in recent years, with draughts and occasional spikes in temperature... but nothing like this.
&nbsp The Highest temperature ever measured on Earth, 58 degress Celsius, originates from Azizi Yeh in the Libyan desert in 1992 (Guiness World of Records, 1994 edition).
&nbsp CLOSE TO (NERVOUS) BREAKDOWN
&nbsp One third of American adults admits, in a survey «of being close to a nervous breakdown». The various pressure at home, at work and society at large is pushing people to the brink. This is consistent with existing statistics in all western/developed countries. The number of people suffering from anxiety, depression and other society related illness, has been on a steady rise in the OECD (The Organization for Economic Cooperation and Development) countries during the latter half of the twentieth century. The last ten years, however, the rise has spiked significantly.
&nbsp The research team is clear in their judgment:
&nbsp - We know that people have always been pushed to the brink by the exhausting demands of a working heavy society, but now the development seems to be pointing even beyond that. The use of pills and other stimulants, is reaching new and staggering levels as well. The health of the general population is on a downward run, while the use of medicine is more pronounced than ever before.
Entered 2000-07-08