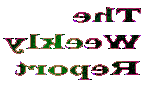 &nbsp WEEK 21 May 8th to 14th

&nbsp DRAMATIC INCREASE IN ENVIRONMENTAL REFUGEES

&nbsp The chief of the UN environmental program (UNEP), Klaus Topfer, is expecting a dramatic increase in human created environmental disasters in the years to come. According to Topfer it is 22 million environmental refugees in the world today. This number will rise dramatically fast. The general situation for both the environment and life on the planet is worsening with much greater speed and magnitude than what was expected merely a few years ago. One fifth of the world's human population are lacking the benefit of clean drinking water. The number of people poisoned by human activity is on the rise, also in record breaking numbers. And the new development is that it's happening everywhere where there earlier was only in smaller, isolated areas. Many known diseases are once more tightening their grip. The list of threats and self inflicted ills to mankind is long and terrifying, by the start of the new millennium.
&nbsp Doctor Klaus Topfer, not exactly your usual Doomsayer, is seriously worried about the future.
&nbsp SWEDISH WORKERS THOROUGHLY DISSATISFIED

&nbsp According to a recent study one third of the Swedish workforce, people who actually have steady, reliable jobs, are expressing major dissatisfaction with their job. The reasons are ranging from the need for more free time, more time to enjoy life, and also the fervent hope that a change of scenery would improve the situation, that the satisfaction would come with a new, more interesting job.
&nbsp Sweden is on an economic upswing after joining the EU, and most Swedes have improved their financial situation in recent years. Evidently it hasn't improved their own impression of the quality of their life.
&nbsp NUCLEAR PLANT MUST PAY 1 BILLION DOLLARS
&nbsp The Japanese nuclear plant Tokaimura and its operating company, that last year caused the worst nuclear disaster since Chernobyl, must pay over 1 billions dollars in compensations to the victims of the disaster. According to BBC the operating company has settled 6450 cases with victims, who are either suffering from radiation sickness or other forms of radiation poisoning. About 400 cases remain unsettled.
&nbsp The plant is still in operation.
&nbsp RELATED NEWS:
&nbsp The entire city and area of Los Alamos, New Mexico, USA, is devastated by fire. The city and its «research» facility nuclear plant is evacuated.
Entered 2000-05-12